Deprecated
: strpos(): Passing null to parameter #1 ($haystack) of type string is deprecated in
/var/www/wp-content/themes/LRDesignLLC/includes/builder/module/helpers/HoverOptions.php
on line
71
Deprecated
: strpos(): Passing null to parameter #1 ($haystack) of type string is deprecated in
/var/www/wp-content/themes/LRDesignLLC/includes/builder/module/helpers/HoverOptions.php
on line
71
Deprecated
: strpos(): Passing null to parameter #1 ($haystack) of type string is deprecated in
/var/www/wp-content/themes/LRDesignLLC/includes/builder/module/helpers/HoverOptions.php
on line
71
Deprecated
: strpos(): Passing null to parameter #1 ($haystack) of type string is deprecated in
/var/www/wp-content/themes/LRDesignLLC/includes/builder/module/helpers/HoverOptions.php
on line
71
Deprecated
: strpos(): Passing null to parameter #1 ($haystack) of type string is deprecated in
/var/www/wp-content/themes/LRDesignLLC/includes/builder/module/helpers/HoverOptions.php
on line
71
Deprecated
: strpos(): Passing null to parameter #1 ($haystack) of type string is deprecated in
/var/www/wp-content/themes/LRDesignLLC/includes/builder/module/helpers/HoverOptions.php
on line
71
Deprecated
: strpos(): Passing null to parameter #1 ($haystack) of type string is deprecated in
/var/www/wp-content/themes/LRDesignLLC/includes/builder/module/helpers/HoverOptions.php
on line
71
Deprecated
: strpos(): Passing null to parameter #1 ($haystack) of type string is deprecated in
/var/www/wp-content/themes/LRDesignLLC/includes/builder/module/helpers/HoverOptions.php
on line
71
Deprecated
: strpos(): Passing null to parameter #1 ($haystack) of type string is deprecated in
/var/www/wp-content/themes/LRDesignLLC/includes/builder/module/helpers/HoverOptions.php
on line
71
Deprecated
: strpos(): Passing null to parameter #1 ($haystack) of type string is deprecated in
/var/www/wp-content/themes/LRDesignLLC/includes/builder/module/helpers/HoverOptions.php
on line
71
Deprecated
: strpos(): Passing null to parameter #1 ($haystack) of type string is deprecated in
/var/www/wp-content/themes/LRDesignLLC/includes/builder/module/helpers/HoverOptions.php
on line
71
Deprecated
: strpos(): Passing null to parameter #1 ($haystack) of type string is deprecated in
/var/www/wp-content/themes/LRDesignLLC/includes/builder/module/helpers/HoverOptions.php
on line
71
Deprecated
: strpos(): Passing null to parameter #1 ($haystack) of type string is deprecated in
/var/www/wp-content/themes/LRDesignLLC/includes/builder/module/helpers/HoverOptions.php
on line
71
Deprecated
: strpos(): Passing null to parameter #1 ($haystack) of type string is deprecated in
/var/www/wp-content/themes/LRDesignLLC/includes/builder/module/helpers/HoverOptions.php
on line
71
Deprecated
: strpos(): Passing null to parameter #1 ($haystack) of type string is deprecated in
/var/www/wp-content/themes/LRDesignLLC/includes/builder/module/helpers/HoverOptions.php
on line
71
Deprecated
: strpos(): Passing null to parameter #1 ($haystack) of type string is deprecated in
/var/www/wp-content/themes/LRDesignLLC/includes/builder/module/helpers/HoverOptions.php
on line
71
Deprecated
: strpos(): Passing null to parameter #1 ($haystack) of type string is deprecated in
/var/www/wp-content/themes/LRDesignLLC/includes/builder/module/helpers/HoverOptions.php
on line
71
Deprecated
: strpos(): Passing null to parameter #1 ($haystack) of type string is deprecated in
/var/www/wp-content/themes/LRDesignLLC/includes/builder/module/helpers/HoverOptions.php
on line
71
Deprecated
: strpos(): Passing null to parameter #1 ($haystack) of type string is deprecated in
/var/www/wp-content/themes/LRDesignLLC/includes/builder/module/helpers/HoverOptions.php
on line
71
Deprecated
: strpos(): Passing null to parameter #1 ($haystack) of type string is deprecated in
/var/www/wp-content/themes/LRDesignLLC/includes/builder/module/helpers/HoverOptions.php
on line
71
Deprecated
: strpos(): Passing null to parameter #1 ($haystack) of type string is deprecated in
/var/www/wp-content/themes/LRDesignLLC/includes/builder/module/helpers/HoverOptions.php
on line
71
Deprecated
: strpos(): Passing null to parameter #1 ($haystack) of type string is deprecated in
/var/www/wp-content/themes/LRDesignLLC/includes/builder/module/helpers/HoverOptions.php
on line
71
Deprecated
: strpos(): Passing null to parameter #1 ($haystack) of type string is deprecated in
/var/www/wp-content/themes/LRDesignLLC/includes/builder/module/helpers/HoverOptions.php
on line
71
Deprecated
: strpos(): Passing null to parameter #1 ($haystack) of type string is deprecated in
/var/www/wp-content/themes/LRDesignLLC/includes/builder/module/helpers/HoverOptions.php
on line
71
Deprecated
: strpos(): Passing null to parameter #1 ($haystack) of type string is deprecated in
/var/www/wp-content/themes/LRDesignLLC/includes/builder/module/helpers/HoverOptions.php
on line
71
Deprecated
: strpos(): Passing null to parameter #1 ($haystack) of type string is deprecated in
/var/www/wp-content/themes/LRDesignLLC/includes/builder/module/helpers/HoverOptions.php
on line
71
Deprecated
: strpos(): Passing null to parameter #1 ($haystack) of type string is deprecated in
/var/www/wp-content/themes/LRDesignLLC/includes/builder/module/helpers/HoverOptions.php
on line
71
Deprecated
: strpos(): Passing null to parameter #1 ($haystack) of type string is deprecated in
/var/www/wp-content/themes/LRDesignLLC/includes/builder/module/helpers/HoverOptions.php
on line
71
Deprecated
: strpos(): Passing null to parameter #1 ($haystack) of type string is deprecated in
/var/www/wp-content/themes/LRDesignLLC/includes/builder/module/helpers/HoverOptions.php
on line
71
Deprecated
: strpos(): Passing null to parameter #1 ($haystack) of type string is deprecated in
/var/www/wp-content/themes/LRDesignLLC/includes/builder/module/helpers/HoverOptions.php
on line
71
Deprecated
: strpos(): Passing null to parameter #1 ($haystack) of type string is deprecated in
/var/www/wp-content/themes/LRDesignLLC/includes/builder/module/helpers/HoverOptions.php
on line
71
Deprecated
: strpos(): Passing null to parameter #1 ($haystack) of type string is deprecated in
/var/www/wp-content/themes/LRDesignLLC/includes/builder/module/helpers/HoverOptions.php
on line
71
Deprecated
: strpos(): Passing null to parameter #1 ($haystack) of type string is deprecated in
/var/www/wp-content/themes/LRDesignLLC/includes/builder/module/helpers/HoverOptions.php
on line
71
Deprecated
: strpos(): Passing null to parameter #1 ($haystack) of type string is deprecated in
/var/www/wp-content/themes/LRDesignLLC/includes/builder/module/helpers/HoverOptions.php
on line
71
Deprecated
: strpos(): Passing null to parameter #1 ($haystack) of type string is deprecated in
/var/www/wp-content/themes/LRDesignLLC/includes/builder/module/helpers/HoverOptions.php
on line
71
Deprecated
: strpos(): Passing null to parameter #1 ($haystack) of type string is deprecated in
/var/www/wp-content/themes/LRDesignLLC/includes/builder/module/helpers/HoverOptions.php
on line
71
Deprecated
: strpos(): Passing null to parameter #1 ($haystack) of type string is deprecated in
/var/www/wp-content/themes/LRDesignLLC/includes/builder/module/helpers/HoverOptions.php
on line
71
Deprecated
: strpos(): Passing null to parameter #1 ($haystack) of type string is deprecated in
/var/www/wp-content/themes/LRDesignLLC/includes/builder/module/helpers/HoverOptions.php
on line
71
Deprecated
: strpos(): Passing null to parameter #1 ($haystack) of type string is deprecated in
/var/www/wp-content/themes/LRDesignLLC/includes/builder/module/helpers/HoverOptions.php
on line
71
Deprecated
: strpos(): Passing null to parameter #1 ($haystack) of type string is deprecated in
/var/www/wp-content/themes/LRDesignLLC/includes/builder/module/helpers/HoverOptions.php
on line
71
Deprecated
: strpos(): Passing null to parameter #1 ($haystack) of type string is deprecated in
/var/www/wp-content/themes/LRDesignLLC/includes/builder/module/helpers/HoverOptions.php
on line
71
Deprecated
: strpos(): Passing null to parameter #1 ($haystack) of type string is deprecated in
/var/www/wp-content/themes/LRDesignLLC/includes/builder/module/helpers/HoverOptions.php
on line
71
Deprecated
: strpos(): Passing null to parameter #1 ($haystack) of type string is deprecated in
/var/www/wp-content/themes/LRDesignLLC/includes/builder/module/helpers/HoverOptions.php
on line
71
Deprecated
: strpos(): Passing null to parameter #1 ($haystack) of type string is deprecated in
/var/www/wp-content/themes/LRDesignLLC/includes/builder/module/helpers/HoverOptions.php
on line
71
Deprecated
: strpos(): Passing null to parameter #1 ($haystack) of type string is deprecated in
/var/www/wp-content/themes/LRDesignLLC/includes/builder/module/helpers/HoverOptions.php
on line
71
Deprecated
: strpos(): Passing null to parameter #1 ($haystack) of type string is deprecated in
/var/www/wp-content/themes/LRDesignLLC/includes/builder/module/helpers/HoverOptions.php
on line
71
Deprecated
: strpos(): Passing null to parameter #1 ($haystack) of type string is deprecated in
/var/www/wp-content/themes/LRDesignLLC/includes/builder/module/helpers/HoverOptions.php
on line
71
Deprecated
: strpos(): Passing null to parameter #1 ($haystack) of type string is deprecated in
/var/www/wp-content/themes/LRDesignLLC/includes/builder/module/helpers/HoverOptions.php
on line
71
Deprecated
: strpos(): Passing null to parameter #1 ($haystack) of type string is deprecated in
/var/www/wp-content/themes/LRDesignLLC/includes/builder/module/helpers/HoverOptions.php
on line
71
Deprecated
: strpos(): Passing null to parameter #1 ($haystack) of type string is deprecated in
/var/www/wp-content/themes/LRDesignLLC/includes/builder/module/helpers/HoverOptions.php
on line
71
Deprecated
: strpos(): Passing null to parameter #1 ($haystack) of type string is deprecated in
/var/www/wp-content/themes/LRDesignLLC/includes/builder/module/helpers/HoverOptions.php
on line
71
Deprecated
: strpos(): Passing null to parameter #1 ($haystack) of type string is deprecated in
/var/www/wp-content/themes/LRDesignLLC/includes/builder/module/helpers/HoverOptions.php
on line
71
Deprecated
: strpos(): Passing null to parameter #1 ($haystack) of type string is deprecated in
/var/www/wp-content/themes/LRDesignLLC/includes/builder/module/helpers/HoverOptions.php
on line
71
Deprecated
: strpos(): Passing null to parameter #1 ($haystack) of type string is deprecated in
/var/www/wp-content/themes/LRDesignLLC/includes/builder/module/helpers/HoverOptions.php
on line
71
Deprecated
: strpos(): Passing null to parameter #1 ($haystack) of type string is deprecated in
/var/www/wp-content/themes/LRDesignLLC/includes/builder/module/helpers/HoverOptions.php
on line
71
Deprecated
: strpos(): Passing null to parameter #1 ($haystack) of type string is deprecated in
/var/www/wp-content/themes/LRDesignLLC/includes/builder/module/helpers/HoverOptions.php
on line
71
Deprecated
: strpos(): Passing null to parameter #1 ($haystack) of type string is deprecated in
/var/www/wp-content/themes/LRDesignLLC/includes/builder/module/helpers/HoverOptions.php
on line
71
Deprecated
: strpos(): Passing null to parameter #1 ($haystack) of type string is deprecated in
/var/www/wp-content/themes/LRDesignLLC/includes/builder/module/helpers/HoverOptions.php
on line
71
Deprecated
: strpos(): Passing null to parameter #1 ($haystack) of type string is deprecated in
/var/www/wp-content/themes/LRDesignLLC/includes/builder/module/helpers/HoverOptions.php
on line
71
Deprecated
: strpos(): Passing null to parameter #1 ($haystack) of type string is deprecated in
/var/www/wp-content/themes/LRDesignLLC/includes/builder/module/helpers/HoverOptions.php
on line
71
Deprecated
: strpos(): Passing null to parameter #1 ($haystack) of type string is deprecated in
/var/www/wp-content/themes/LRDesignLLC/includes/builder/module/helpers/HoverOptions.php
on line
71
Deprecated
: strpos(): Passing null to parameter #1 ($haystack) of type string is deprecated in
/var/www/wp-content/themes/LRDesignLLC/includes/builder/module/helpers/HoverOptions.php
on line
71
Deprecated
: strpos(): Passing null to parameter #1 ($haystack) of type string is deprecated in
/var/www/wp-content/themes/LRDesignLLC/includes/builder/module/helpers/HoverOptions.php
on line
71
Deprecated
: strpos(): Passing null to parameter #1 ($haystack) of type string is deprecated in
/var/www/wp-content/themes/LRDesignLLC/includes/builder/module/helpers/HoverOptions.php
on line
71
Deprecated
: strpos(): Passing null to parameter #1 ($haystack) of type string is deprecated in
/var/www/wp-content/themes/LRDesignLLC/includes/builder/module/helpers/HoverOptions.php
on line
71
Deprecated
: strpos(): Passing null to parameter #1 ($haystack) of type string is deprecated in
/var/www/wp-content/themes/LRDesignLLC/includes/builder/module/helpers/HoverOptions.php
on line
71
Deprecated
: strpos(): Passing null to parameter #1 ($haystack) of type string is deprecated in
/var/www/wp-content/themes/LRDesignLLC/includes/builder/module/helpers/HoverOptions.php
on line
71
Deprecated
: strpos(): Passing null to parameter #1 ($haystack) of type string is deprecated in
/var/www/wp-content/themes/LRDesignLLC/includes/builder/module/helpers/HoverOptions.php
on line
71
Deprecated
: strpos(): Passing null to parameter #1 ($haystack) of type string is deprecated in
/var/www/wp-content/themes/LRDesignLLC/includes/builder/module/helpers/HoverOptions.php
on line
71
Deprecated
: strpos(): Passing null to parameter #1 ($haystack) of type string is deprecated in
/var/www/wp-content/themes/LRDesignLLC/includes/builder/module/helpers/HoverOptions.php
on line
71
Deprecated
: strpos(): Passing null to parameter #1 ($haystack) of type string is deprecated in
/var/www/wp-content/themes/LRDesignLLC/includes/builder/module/helpers/HoverOptions.php
on line
71
Deprecated
: strpos(): Passing null to parameter #1 ($haystack) of type string is deprecated in
/var/www/wp-content/themes/LRDesignLLC/includes/builder/module/helpers/HoverOptions.php
on line
71
Deprecated
: strpos(): Passing null to parameter #1 ($haystack) of type string is deprecated in
/var/www/wp-content/themes/LRDesignLLC/includes/builder/module/helpers/HoverOptions.php
on line
71
Deprecated
: strpos(): Passing null to parameter #1 ($haystack) of type string is deprecated in
/var/www/wp-content/themes/LRDesignLLC/includes/builder/module/helpers/HoverOptions.php
on line
71
Deprecated
: strpos(): Passing null to parameter #1 ($haystack) of type string is deprecated in
/var/www/wp-content/themes/LRDesignLLC/includes/builder/module/helpers/HoverOptions.php
on line
71
Deprecated
: strpos(): Passing null to parameter #1 ($haystack) of type string is deprecated in
/var/www/wp-content/themes/LRDesignLLC/includes/builder/module/helpers/HoverOptions.php
on line
71
Deprecated
: strpos(): Passing null to parameter #1 ($haystack) of type string is deprecated in
/var/www/wp-content/themes/LRDesignLLC/includes/builder/module/helpers/HoverOptions.php
on line
71
Deprecated
: strpos(): Passing null to parameter #1 ($haystack) of type string is deprecated in
/var/www/wp-content/themes/LRDesignLLC/includes/builder/module/helpers/HoverOptions.php
on line
71
Deprecated
: strpos(): Passing null to parameter #1 ($haystack) of type string is deprecated in
/var/www/wp-content/themes/LRDesignLLC/includes/builder/module/helpers/HoverOptions.php
on line
71
Deprecated
: strpos(): Passing null to parameter #1 ($haystack) of type string is deprecated in
/var/www/wp-content/themes/LRDesignLLC/includes/builder/module/helpers/HoverOptions.php
on line
71
Deprecated
: strpos(): Passing null to parameter #1 ($haystack) of type string is deprecated in
/var/www/wp-content/themes/LRDesignLLC/includes/builder/module/helpers/HoverOptions.php
on line
71
Deprecated
: strpos(): Passing null to parameter #1 ($haystack) of type string is deprecated in
/var/www/wp-content/themes/LRDesignLLC/includes/builder/module/helpers/HoverOptions.php
on line
71
Deprecated
: strpos(): Passing null to parameter #1 ($haystack) of type string is deprecated in
/var/www/wp-content/themes/LRDesignLLC/includes/builder/module/helpers/HoverOptions.php
on line
71
Deprecated
: strpos(): Passing null to parameter #1 ($haystack) of type string is deprecated in
/var/www/wp-content/themes/LRDesignLLC/includes/builder/module/helpers/HoverOptions.php
on line
71
Deprecated
: strpos(): Passing null to parameter #1 ($haystack) of type string is deprecated in
/var/www/wp-content/themes/LRDesignLLC/includes/builder/module/helpers/HoverOptions.php
on line
71
Deprecated
: strpos(): Passing null to parameter #1 ($haystack) of type string is deprecated in
/var/www/wp-content/themes/LRDesignLLC/includes/builder/module/helpers/HoverOptions.php
on line
71
Deprecated
: strpos(): Passing null to parameter #1 ($haystack) of type string is deprecated in
/var/www/wp-content/themes/LRDesignLLC/includes/builder/module/helpers/HoverOptions.php
on line
71
Deprecated
: strpos(): Passing null to parameter #1 ($haystack) of type string is deprecated in
/var/www/wp-content/themes/LRDesignLLC/includes/builder/module/helpers/HoverOptions.php
on line
71
Deprecated
: strpos(): Passing null to parameter #1 ($haystack) of type string is deprecated in
/var/www/wp-content/themes/LRDesignLLC/includes/builder/module/helpers/HoverOptions.php
on line
71
Deprecated
: strpos(): Passing null to parameter #1 ($haystack) of type string is deprecated in
/var/www/wp-content/themes/LRDesignLLC/includes/builder/module/helpers/HoverOptions.php
on line
71
Deprecated
: strpos(): Passing null to parameter #1 ($haystack) of type string is deprecated in
/var/www/wp-content/themes/LRDesignLLC/includes/builder/module/helpers/HoverOptions.php
on line
71
Deprecated
: strpos(): Passing null to parameter #1 ($haystack) of type string is deprecated in
/var/www/wp-content/themes/LRDesignLLC/includes/builder/module/helpers/HoverOptions.php
on line
71
Deprecated
: rtrim(): Passing null to parameter #1 ($string) of type string is deprecated in
/var/www/wp-content/themes/LRDesignLLC/includes/builder/class-et-builder-element.php
on line
16522
Deprecated
: strpos(): Passing null to parameter #1 ($haystack) of type string is deprecated in
/var/www/wp-content/themes/LRDesignLLC/includes/builder/module/helpers/HoverOptions.php
on line
71
Deprecated
: strpos(): Passing null to parameter #1 ($haystack) of type string is deprecated in
/var/www/wp-content/themes/LRDesignLLC/includes/builder/module/helpers/HoverOptions.php
on line
71
Deprecated
: strpos(): Passing null to parameter #1 ($haystack) of type string is deprecated in
/var/www/wp-content/themes/LRDesignLLC/includes/builder/module/helpers/HoverOptions.php
on line
71
Deprecated
: strpos(): Passing null to parameter #1 ($haystack) of type string is deprecated in
/var/www/wp-content/themes/LRDesignLLC/includes/builder/module/helpers/HoverOptions.php
on line
71
Deprecated
: strpos(): Passing null to parameter #1 ($haystack) of type string is deprecated in
/var/www/wp-content/themes/LRDesignLLC/includes/builder/module/helpers/HoverOptions.php
on line
71
Deprecated
: strpos(): Passing null to parameter #1 ($haystack) of type string is deprecated in
/var/www/wp-content/themes/LRDesignLLC/includes/builder/module/helpers/HoverOptions.php
on line
71
Deprecated
: strpos(): Passing null to parameter #1 ($haystack) of type string is deprecated in
/var/www/wp-content/themes/LRDesignLLC/includes/builder/module/helpers/HoverOptions.php
on line
71
Deprecated
: strpos(): Passing null to parameter #1 ($haystack) of type string is deprecated in
/var/www/wp-content/themes/LRDesignLLC/includes/builder/module/helpers/HoverOptions.php
on line
71
Deprecated
: strpos(): Passing null to parameter #1 ($haystack) of type string is deprecated in
/var/www/wp-content/themes/LRDesignLLC/includes/builder/module/helpers/HoverOptions.php
on line
71
Deprecated
: strpos(): Passing null to parameter #1 ($haystack) of type string is deprecated in
/var/www/wp-content/themes/LRDesignLLC/includes/builder/module/helpers/HoverOptions.php
on line
71
Deprecated
: strpos(): Passing null to parameter #1 ($haystack) of type string is deprecated in
/var/www/wp-content/themes/LRDesignLLC/includes/builder/module/helpers/HoverOptions.php
on line
71
Deprecated
: strpos(): Passing null to parameter #1 ($haystack) of type string is deprecated in
/var/www/wp-content/themes/LRDesignLLC/includes/builder/module/helpers/HoverOptions.php
on line
71
Deprecated
: strpos(): Passing null to parameter #1 ($haystack) of type string is deprecated in
/var/www/wp-content/themes/LRDesignLLC/includes/builder/module/helpers/HoverOptions.php
on line
71
Deprecated
: strpos(): Passing null to parameter #1 ($haystack) of type string is deprecated in
/var/www/wp-content/themes/LRDesignLLC/includes/builder/module/helpers/HoverOptions.php
on line
71
Deprecated
: strpos(): Passing null to parameter #1 ($haystack) of type string is deprecated in
/var/www/wp-content/themes/LRDesignLLC/includes/builder/module/helpers/HoverOptions.php
on line
71
Deprecated
: strpos(): Passing null to parameter #1 ($haystack) of type string is deprecated in
/var/www/wp-content/themes/LRDesignLLC/includes/builder/module/helpers/HoverOptions.php
on line
71
Deprecated
: strpos(): Passing null to parameter #1 ($haystack) of type string is deprecated in
/var/www/wp-content/themes/LRDesignLLC/includes/builder/module/helpers/HoverOptions.php
on line
71
Deprecated
: strpos(): Passing null to parameter #1 ($haystack) of type string is deprecated in
/var/www/wp-content/themes/LRDesignLLC/includes/builder/module/helpers/HoverOptions.php
on line
71
Deprecated
: strpos(): Passing null to parameter #1 ($haystack) of type string is deprecated in
/var/www/wp-content/themes/LRDesignLLC/includes/builder/module/helpers/HoverOptions.php
on line
71
Deprecated
: strpos(): Passing null to parameter #1 ($haystack) of type string is deprecated in
/var/www/wp-content/themes/LRDesignLLC/includes/builder/module/helpers/HoverOptions.php
on line
71
Deprecated
: strpos(): Passing null to parameter #1 ($haystack) of type string is deprecated in
/var/www/wp-content/themes/LRDesignLLC/includes/builder/module/helpers/HoverOptions.php
on line
71
Deprecated
: strpos(): Passing null to parameter #1 ($haystack) of type string is deprecated in
/var/www/wp-content/themes/LRDesignLLC/includes/builder/module/helpers/HoverOptions.php
on line
71
Deprecated
: strpos(): Passing null to parameter #1 ($haystack) of type string is deprecated in
/var/www/wp-content/themes/LRDesignLLC/includes/builder/module/helpers/HoverOptions.php
on line
71
Deprecated
: strpos(): Passing null to parameter #1 ($haystack) of type string is deprecated in
/var/www/wp-content/themes/LRDesignLLC/includes/builder/module/helpers/HoverOptions.php
on line
71
Deprecated
: strpos(): Passing null to parameter #1 ($haystack) of type string is deprecated in
/var/www/wp-content/themes/LRDesignLLC/includes/builder/module/helpers/HoverOptions.php
on line
71
Deprecated
: strpos(): Passing null to parameter #1 ($haystack) of type string is deprecated in
/var/www/wp-content/themes/LRDesignLLC/includes/builder/module/helpers/HoverOptions.php
on line
71
Deprecated
: strpos(): Passing null to parameter #1 ($haystack) of type string is deprecated in
/var/www/wp-content/themes/LRDesignLLC/includes/builder/module/helpers/HoverOptions.php
on line
71
Deprecated
: strpos(): Passing null to parameter #1 ($haystack) of type string is deprecated in
/var/www/wp-content/themes/LRDesignLLC/includes/builder/module/helpers/HoverOptions.php
on line
71
Deprecated
: strpos(): Passing null to parameter #1 ($haystack) of type string is deprecated in
/var/www/wp-content/themes/LRDesignLLC/includes/builder/module/helpers/HoverOptions.php
on line
71
Deprecated
: strpos(): Passing null to parameter #1 ($haystack) of type string is deprecated in
/var/www/wp-content/themes/LRDesignLLC/includes/builder/module/helpers/HoverOptions.php
on line
71
Deprecated
: strpos(): Passing null to parameter #1 ($haystack) of type string is deprecated in
/var/www/wp-content/themes/LRDesignLLC/includes/builder/module/helpers/HoverOptions.php
on line
71
Deprecated
: strpos(): Passing null to parameter #1 ($haystack) of type string is deprecated in
/var/www/wp-content/themes/LRDesignLLC/includes/builder/module/helpers/HoverOptions.php
on line
71
Deprecated
: strpos(): Passing null to parameter #1 ($haystack) of type string is deprecated in
/var/www/wp-content/themes/LRDesignLLC/includes/builder/module/helpers/HoverOptions.php
on line
71
Deprecated
: strpos(): Passing null to parameter #1 ($haystack) of type string is deprecated in
/var/www/wp-content/themes/LRDesignLLC/includes/builder/module/helpers/HoverOptions.php
on line
71
Deprecated
: strpos(): Passing null to parameter #1 ($haystack) of type string is deprecated in
/var/www/wp-content/themes/LRDesignLLC/includes/builder/module/helpers/HoverOptions.php
on line
71
Deprecated
: strpos(): Passing null to parameter #1 ($haystack) of type string is deprecated in
/var/www/wp-content/themes/LRDesignLLC/includes/builder/module/helpers/HoverOptions.php
on line
71
Deprecated
: strpos(): Passing null to parameter #1 ($haystack) of type string is deprecated in
/var/www/wp-content/themes/LRDesignLLC/includes/builder/module/helpers/HoverOptions.php
on line
71
Deprecated
: strpos(): Passing null to parameter #1 ($haystack) of type string is deprecated in
/var/www/wp-content/themes/LRDesignLLC/includes/builder/module/helpers/HoverOptions.php
on line
71
Deprecated
: strpos(): Passing null to parameter #1 ($haystack) of type string is deprecated in
/var/www/wp-content/themes/LRDesignLLC/includes/builder/module/helpers/HoverOptions.php
on line
71
Deprecated
: strpos(): Passing null to parameter #1 ($haystack) of type string is deprecated in
/var/www/wp-content/themes/LRDesignLLC/includes/builder/module/helpers/HoverOptions.php
on line
71
Deprecated
: strpos(): Passing null to parameter #1 ($haystack) of type string is deprecated in
/var/www/wp-content/themes/LRDesignLLC/includes/builder/module/helpers/HoverOptions.php
on line
71
Deprecated
: strpos(): Passing null to parameter #1 ($haystack) of type string is deprecated in
/var/www/wp-content/themes/LRDesignLLC/includes/builder/module/helpers/HoverOptions.php
on line
71
Deprecated
: strpos(): Passing null to parameter #1 ($haystack) of type string is deprecated in
/var/www/wp-content/themes/LRDesignLLC/includes/builder/module/helpers/HoverOptions.php
on line
71
Deprecated
: strpos(): Passing null to parameter #1 ($haystack) of type string is deprecated in
/var/www/wp-content/themes/LRDesignLLC/includes/builder/module/helpers/HoverOptions.php
on line
71
Deprecated
: strpos(): Passing null to parameter #1 ($haystack) of type string is deprecated in
/var/www/wp-content/themes/LRDesignLLC/includes/builder/module/helpers/HoverOptions.php
on line
71
Deprecated
: strpos(): Passing null to parameter #1 ($haystack) of type string is deprecated in
/var/www/wp-content/themes/LRDesignLLC/includes/builder/module/helpers/HoverOptions.php
on line
71
Deprecated
: strpos(): Passing null to parameter #1 ($haystack) of type string is deprecated in
/var/www/wp-content/themes/LRDesignLLC/includes/builder/module/helpers/HoverOptions.php
on line
71
Deprecated
: strpos(): Passing null to parameter #1 ($haystack) of type string is deprecated in
/var/www/wp-content/themes/LRDesignLLC/includes/builder/module/helpers/HoverOptions.php
on line
71
Deprecated
: strpos(): Passing null to parameter #1 ($haystack) of type string is deprecated in
/var/www/wp-content/themes/LRDesignLLC/includes/builder/module/helpers/HoverOptions.php
on line
71
Deprecated
: strpos(): Passing null to parameter #1 ($haystack) of type string is deprecated in
/var/www/wp-content/themes/LRDesignLLC/includes/builder/module/helpers/HoverOptions.php
on line
71
Deprecated
: strpos(): Passing null to parameter #1 ($haystack) of type string is deprecated in
/var/www/wp-content/themes/LRDesignLLC/includes/builder/module/helpers/HoverOptions.php
on line
71
Deprecated
: strpos(): Passing null to parameter #1 ($haystack) of type string is deprecated in
/var/www/wp-content/themes/LRDesignLLC/includes/builder/module/helpers/HoverOptions.php
on line
71
Deprecated
: strpos(): Passing null to parameter #1 ($haystack) of type string is deprecated in
/var/www/wp-content/themes/LRDesignLLC/includes/builder/module/helpers/HoverOptions.php
on line
71
Deprecated
: strpos(): Passing null to parameter #1 ($haystack) of type string is deprecated in
/var/www/wp-content/themes/LRDesignLLC/includes/builder/module/helpers/HoverOptions.php
on line
71
Deprecated
: strpos(): Passing null to parameter #1 ($haystack) of type string is deprecated in
/var/www/wp-content/themes/LRDesignLLC/includes/builder/module/helpers/HoverOptions.php
on line
71
Deprecated
: strpos(): Passing null to parameter #1 ($haystack) of type string is deprecated in
/var/www/wp-content/themes/LRDesignLLC/includes/builder/module/helpers/HoverOptions.php
on line
71
Deprecated
: strpos(): Passing null to parameter #1 ($haystack) of type string is deprecated in
/var/www/wp-content/themes/LRDesignLLC/includes/builder/module/helpers/HoverOptions.php
on line
71
Deprecated
: strpos(): Passing null to parameter #1 ($haystack) of type string is deprecated in
/var/www/wp-content/themes/LRDesignLLC/includes/builder/module/helpers/HoverOptions.php
on line
71
Deprecated
: strpos(): Passing null to parameter #1 ($haystack) of type string is deprecated in
/var/www/wp-content/themes/LRDesignLLC/includes/builder/module/helpers/HoverOptions.php
on line
71
Deprecated
: strpos(): Passing null to parameter #1 ($haystack) of type string is deprecated in
/var/www/wp-content/themes/LRDesignLLC/includes/builder/module/helpers/HoverOptions.php
on line
71
Deprecated
: strpos(): Passing null to parameter #1 ($haystack) of type string is deprecated in
/var/www/wp-content/themes/LRDesignLLC/includes/builder/module/helpers/HoverOptions.php
on line
71
Deprecated
: strpos(): Passing null to parameter #1 ($haystack) of type string is deprecated in
/var/www/wp-content/themes/LRDesignLLC/includes/builder/module/helpers/HoverOptions.php
on line
71
Deprecated
: strpos(): Passing null to parameter #1 ($haystack) of type string is deprecated in
/var/www/wp-content/themes/LRDesignLLC/includes/builder/module/helpers/HoverOptions.php
on line
71
Deprecated
: strpos(): Passing null to parameter #1 ($haystack) of type string is deprecated in
/var/www/wp-content/themes/LRDesignLLC/includes/builder/module/helpers/HoverOptions.php
on line
71
Deprecated
: strpos(): Passing null to parameter #1 ($haystack) of type string is deprecated in
/var/www/wp-content/themes/LRDesignLLC/includes/builder/module/helpers/HoverOptions.php
on line
71
Deprecated
: strpos(): Passing null to parameter #1 ($haystack) of type string is deprecated in
/var/www/wp-content/themes/LRDesignLLC/includes/builder/module/helpers/HoverOptions.php
on line
71
Deprecated
: strpos(): Passing null to parameter #1 ($haystack) of type string is deprecated in
/var/www/wp-content/themes/LRDesignLLC/includes/builder/module/helpers/HoverOptions.php
on line
71
Deprecated
: strpos(): Passing null to parameter #1 ($haystack) of type string is deprecated in
/var/www/wp-content/themes/LRDesignLLC/includes/builder/module/helpers/HoverOptions.php
on line
71
Deprecated
: strpos(): Passing null to parameter #1 ($haystack) of type string is deprecated in
/var/www/wp-content/themes/LRDesignLLC/includes/builder/module/helpers/HoverOptions.php
on line
71
Deprecated
: strpos(): Passing null to parameter #1 ($haystack) of type string is deprecated in
/var/www/wp-content/themes/LRDesignLLC/includes/builder/module/helpers/HoverOptions.php
on line
71
Deprecated
: strpos(): Passing null to parameter #1 ($haystack) of type string is deprecated in
/var/www/wp-content/themes/LRDesignLLC/includes/builder/module/helpers/HoverOptions.php
on line
71
Deprecated
: strpos(): Passing null to parameter #1 ($haystack) of type string is deprecated in
/var/www/wp-content/themes/LRDesignLLC/includes/builder/module/helpers/HoverOptions.php
on line
71
Deprecated
: strpos(): Passing null to parameter #1 ($haystack) of type string is deprecated in
/var/www/wp-content/themes/LRDesignLLC/includes/builder/module/helpers/HoverOptions.php
on line
71
Deprecated
: strpos(): Passing null to parameter #1 ($haystack) of type string is deprecated in
/var/www/wp-content/themes/LRDesignLLC/includes/builder/module/helpers/HoverOptions.php
on line
71
Deprecated
: strpos(): Passing null to parameter #1 ($haystack) of type string is deprecated in
/var/www/wp-content/themes/LRDesignLLC/includes/builder/module/helpers/HoverOptions.php
on line
71
Deprecated
: strpos(): Passing null to parameter #1 ($haystack) of type string is deprecated in
/var/www/wp-content/themes/LRDesignLLC/includes/builder/module/helpers/HoverOptions.php
on line
71
Deprecated
: strpos(): Passing null to parameter #1 ($haystack) of type string is deprecated in
/var/www/wp-content/themes/LRDesignLLC/includes/builder/module/helpers/HoverOptions.php
on line
71
Deprecated
: strpos(): Passing null to parameter #1 ($haystack) of type string is deprecated in
/var/www/wp-content/themes/LRDesignLLC/includes/builder/module/helpers/HoverOptions.php
on line
71
Deprecated
: strpos(): Passing null to parameter #1 ($haystack) of type string is deprecated in
/var/www/wp-content/themes/LRDesignLLC/includes/builder/module/helpers/HoverOptions.php
on line
71
Deprecated
: strpos(): Passing null to parameter #1 ($haystack) of type string is deprecated in
/var/www/wp-content/themes/LRDesignLLC/includes/builder/module/helpers/HoverOptions.php
on line
71
Deprecated
: strpos(): Passing null to parameter #1 ($haystack) of type string is deprecated in
/var/www/wp-content/themes/LRDesignLLC/includes/builder/module/helpers/HoverOptions.php
on line
71
Deprecated
: strpos(): Passing null to parameter #1 ($haystack) of type string is deprecated in
/var/www/wp-content/themes/LRDesignLLC/includes/builder/module/helpers/HoverOptions.php
on line
71
Deprecated
: strpos(): Passing null to parameter #1 ($haystack) of type string is deprecated in
/var/www/wp-content/themes/LRDesignLLC/includes/builder/module/helpers/HoverOptions.php
on line
71
Deprecated
: strpos(): Passing null to parameter #1 ($haystack) of type string is deprecated in
/var/www/wp-content/themes/LRDesignLLC/includes/builder/module/helpers/HoverOptions.php
on line
71
Deprecated
: strpos(): Passing null to parameter #1 ($haystack) of type string is deprecated in
/var/www/wp-content/themes/LRDesignLLC/includes/builder/module/helpers/HoverOptions.php
on line
71
Deprecated
: strpos(): Passing null to parameter #1 ($haystack) of type string is deprecated in
/var/www/wp-content/themes/LRDesignLLC/includes/builder/module/helpers/HoverOptions.php
on line
71
Deprecated
: strpos(): Passing null to parameter #1 ($haystack) of type string is deprecated in
/var/www/wp-content/themes/LRDesignLLC/includes/builder/module/helpers/HoverOptions.php
on line
71
Deprecated
: strpos(): Passing null to parameter #1 ($haystack) of type string is deprecated in
/var/www/wp-content/themes/LRDesignLLC/includes/builder/module/helpers/HoverOptions.php
on line
71
Deprecated
: strpos(): Passing null to parameter #1 ($haystack) of type string is deprecated in
/var/www/wp-content/themes/LRDesignLLC/includes/builder/module/helpers/HoverOptions.php
on line
71
Deprecated
: strpos(): Passing null to parameter #1 ($haystack) of type string is deprecated in
/var/www/wp-content/themes/LRDesignLLC/includes/builder/module/helpers/HoverOptions.php
on line
71
Deprecated
: strpos(): Passing null to parameter #1 ($haystack) of type string is deprecated in
/var/www/wp-content/themes/LRDesignLLC/includes/builder/module/helpers/HoverOptions.php
on line
71
Deprecated
: strpos(): Passing null to parameter #1 ($haystack) of type string is deprecated in
/var/www/wp-content/themes/LRDesignLLC/includes/builder/module/helpers/HoverOptions.php
on line
71
Deprecated
: strpos(): Passing null to parameter #1 ($haystack) of type string is deprecated in
/var/www/wp-content/themes/LRDesignLLC/includes/builder/module/helpers/HoverOptions.php
on line
71
Deprecated
: strpos(): Passing null to parameter #1 ($haystack) of type string is deprecated in
/var/www/wp-content/themes/LRDesignLLC/includes/builder/module/helpers/HoverOptions.php
on line
71
Deprecated
: strpos(): Passing null to parameter #1 ($haystack) of type string is deprecated in
/var/www/wp-content/themes/LRDesignLLC/includes/builder/module/helpers/HoverOptions.php
on line
71
Deprecated
: strpos(): Passing null to parameter #1 ($haystack) of type string is deprecated in
/var/www/wp-content/themes/LRDesignLLC/includes/builder/module/helpers/HoverOptions.php
on line
71
Deprecated
: strpos(): Passing null to parameter #1 ($haystack) of type string is deprecated in
/var/www/wp-content/themes/LRDesignLLC/includes/builder/module/helpers/HoverOptions.php
on line
71
Deprecated
: strpos(): Passing null to parameter #1 ($haystack) of type string is deprecated in
/var/www/wp-content/themes/LRDesignLLC/includes/builder/module/helpers/HoverOptions.php
on line
71
Deprecated
: strpos(): Passing null to parameter #1 ($haystack) of type string is deprecated in
/var/www/wp-content/themes/LRDesignLLC/includes/builder/module/helpers/HoverOptions.php
on line
71
Deprecated
: strpos(): Passing null to parameter #1 ($haystack) of type string is deprecated in
/var/www/wp-content/themes/LRDesignLLC/includes/builder/module/helpers/HoverOptions.php
on line
71
Deprecated
: strpos(): Passing null to parameter #1 ($haystack) of type string is deprecated in
/var/www/wp-content/themes/LRDesignLLC/includes/builder/module/helpers/HoverOptions.php
on line
71
Deprecated
: strpos(): Passing null to parameter #1 ($haystack) of type string is deprecated in
/var/www/wp-content/themes/LRDesignLLC/includes/builder/module/helpers/HoverOptions.php
on line
71
Deprecated
: strpos(): Passing null to parameter #1 ($haystack) of type string is deprecated in
/var/www/wp-content/themes/LRDesignLLC/includes/builder/module/helpers/HoverOptions.php
on line
71
Deprecated
: strpos(): Passing null to parameter #1 ($haystack) of type string is deprecated in
/var/www/wp-content/themes/LRDesignLLC/includes/builder/module/helpers/HoverOptions.php
on line
71
Deprecated
: strpos(): Passing null to parameter #1 ($haystack) of type string is deprecated in
/var/www/wp-content/themes/LRDesignLLC/includes/builder/module/helpers/HoverOptions.php
on line
71
Deprecated
: strpos(): Passing null to parameter #1 ($haystack) of type string is deprecated in
/var/www/wp-content/themes/LRDesignLLC/includes/builder/module/helpers/HoverOptions.php
on line
71
Deprecated
: strpos(): Passing null to parameter #1 ($haystack) of type string is deprecated in
/var/www/wp-content/themes/LRDesignLLC/includes/builder/module/helpers/HoverOptions.php
on line
71
Deprecated
: strpos(): Passing null to parameter #1 ($haystack) of type string is deprecated in
/var/www/wp-content/themes/LRDesignLLC/includes/builder/module/helpers/HoverOptions.php
on line
71
Deprecated
: strpos(): Passing null to parameter #1 ($haystack) of type string is deprecated in
/var/www/wp-content/themes/LRDesignLLC/includes/builder/module/helpers/HoverOptions.php
on line
71
Deprecated
: strpos(): Passing null to parameter #1 ($haystack) of type string is deprecated in
/var/www/wp-content/themes/LRDesignLLC/includes/builder/module/helpers/HoverOptions.php
on line
71
Deprecated
: strpos(): Passing null to parameter #1 ($haystack) of type string is deprecated in
/var/www/wp-content/themes/LRDesignLLC/includes/builder/module/helpers/HoverOptions.php
on line
71
Deprecated
: strpos(): Passing null to parameter #1 ($haystack) of type string is deprecated in
/var/www/wp-content/themes/LRDesignLLC/includes/builder/module/helpers/HoverOptions.php
on line
71
Deprecated
: strpos(): Passing null to parameter #1 ($haystack) of type string is deprecated in
/var/www/wp-content/themes/LRDesignLLC/includes/builder/module/helpers/HoverOptions.php
on line
71
Deprecated
: strpos(): Passing null to parameter #1 ($haystack) of type string is deprecated in
/var/www/wp-content/themes/LRDesignLLC/includes/builder/module/helpers/HoverOptions.php
on line
71
Deprecated
: strpos(): Passing null to parameter #1 ($haystack) of type string is deprecated in
/var/www/wp-content/themes/LRDesignLLC/includes/builder/module/helpers/HoverOptions.php
on line
71
Deprecated
: strpos(): Passing null to parameter #1 ($haystack) of type string is deprecated in
/var/www/wp-content/themes/LRDesignLLC/includes/builder/module/helpers/HoverOptions.php
on line
71
Deprecated
: strpos(): Passing null to parameter #1 ($haystack) of type string is deprecated in
/var/www/wp-content/themes/LRDesignLLC/includes/builder/module/helpers/HoverOptions.php
on line
71
Deprecated
: strpos(): Passing null to parameter #1 ($haystack) of type string is deprecated in
/var/www/wp-content/themes/LRDesignLLC/includes/builder/module/helpers/HoverOptions.php
on line
71
Deprecated
: strpos(): Passing null to parameter #1 ($haystack) of type string is deprecated in
/var/www/wp-content/themes/LRDesignLLC/includes/builder/module/helpers/HoverOptions.php
on line
71
Deprecated
: strpos(): Passing null to parameter #1 ($haystack) of type string is deprecated in
/var/www/wp-content/themes/LRDesignLLC/includes/builder/module/helpers/HoverOptions.php
on line
71
Deprecated
: strpos(): Passing null to parameter #1 ($haystack) of type string is deprecated in
/var/www/wp-content/themes/LRDesignLLC/includes/builder/module/helpers/HoverOptions.php
on line
71
Deprecated
: strpos(): Passing null to parameter #1 ($haystack) of type string is deprecated in
/var/www/wp-content/themes/LRDesignLLC/includes/builder/module/helpers/HoverOptions.php
on line
71
Deprecated
: strpos(): Passing null to parameter #1 ($haystack) of type string is deprecated in
/var/www/wp-content/themes/LRDesignLLC/includes/builder/module/helpers/HoverOptions.php
on line
71
Deprecated
: strpos(): Passing null to parameter #1 ($haystack) of type string is deprecated in
/var/www/wp-content/themes/LRDesignLLC/includes/builder/module/helpers/HoverOptions.php
on line
71
Deprecated
: strpos(): Passing null to parameter #1 ($haystack) of type string is deprecated in
/var/www/wp-content/themes/LRDesignLLC/includes/builder/module/helpers/HoverOptions.php
on line
71
Deprecated
: strpos(): Passing null to parameter #1 ($haystack) of type string is deprecated in
/var/www/wp-content/themes/LRDesignLLC/includes/builder/module/helpers/HoverOptions.php
on line
71
Deprecated
: strpos(): Passing null to parameter #1 ($haystack) of type string is deprecated in
/var/www/wp-content/themes/LRDesignLLC/includes/builder/module/helpers/HoverOptions.php
on line
71
Deprecated
: strpos(): Passing null to parameter #1 ($haystack) of type string is deprecated in
/var/www/wp-content/themes/LRDesignLLC/includes/builder/module/helpers/HoverOptions.php
on line
71
Deprecated
: strpos(): Passing null to parameter #1 ($haystack) of type string is deprecated in
/var/www/wp-content/themes/LRDesignLLC/includes/builder/module/helpers/HoverOptions.php
on line
71
Deprecated
: strpos(): Passing null to parameter #1 ($haystack) of type string is deprecated in
/var/www/wp-content/themes/LRDesignLLC/includes/builder/module/helpers/HoverOptions.php
on line
71
Deprecated
: strpos(): Passing null to parameter #1 ($haystack) of type string is deprecated in
/var/www/wp-content/themes/LRDesignLLC/includes/builder/module/helpers/HoverOptions.php
on line
71
Deprecated
: strpos(): Passing null to parameter #1 ($haystack) of type string is deprecated in
/var/www/wp-content/themes/LRDesignLLC/includes/builder/module/helpers/HoverOptions.php
on line
71
Deprecated
: strpos(): Passing null to parameter #1 ($haystack) of type string is deprecated in
/var/www/wp-content/themes/LRDesignLLC/includes/builder/module/helpers/HoverOptions.php
on line
71
Deprecated
: strpos(): Passing null to parameter #1 ($haystack) of type string is deprecated in
/var/www/wp-content/themes/LRDesignLLC/includes/builder/module/helpers/HoverOptions.php
on line
71
Deprecated
: strpos(): Passing null to parameter #1 ($haystack) of type string is deprecated in
/var/www/wp-content/themes/LRDesignLLC/includes/builder/module/helpers/HoverOptions.php
on line
71
Deprecated
: strpos(): Passing null to parameter #1 ($haystack) of type string is deprecated in
/var/www/wp-content/themes/LRDesignLLC/includes/builder/module/helpers/HoverOptions.php
on line
71
Deprecated
: strpos(): Passing null to parameter #1 ($haystack) of type string is deprecated in
/var/www/wp-content/themes/LRDesignLLC/includes/builder/module/helpers/HoverOptions.php
on line
71
Deprecated
: strpos(): Passing null to parameter #1 ($haystack) of type string is deprecated in
/var/www/wp-content/themes/LRDesignLLC/includes/builder/module/helpers/HoverOptions.php
on line
71
Deprecated
: strpos(): Passing null to parameter #1 ($haystack) of type string is deprecated in
/var/www/wp-content/themes/LRDesignLLC/includes/builder/module/helpers/HoverOptions.php
on line
71
Deprecated
: strpos(): Passing null to parameter #1 ($haystack) of type string is deprecated in
/var/www/wp-content/themes/LRDesignLLC/includes/builder/module/helpers/HoverOptions.php
on line
71
Deprecated
: strpos(): Passing null to parameter #1 ($haystack) of type string is deprecated in
/var/www/wp-content/themes/LRDesignLLC/includes/builder/module/helpers/HoverOptions.php
on line
71
Deprecated
: strpos(): Passing null to parameter #1 ($haystack) of type string is deprecated in
/var/www/wp-content/themes/LRDesignLLC/includes/builder/module/helpers/HoverOptions.php
on line
71
Deprecated
: strpos(): Passing null to parameter #1 ($haystack) of type string is deprecated in
/var/www/wp-content/themes/LRDesignLLC/includes/builder/module/helpers/HoverOptions.php
on line
71
Deprecated
: strpos(): Passing null to parameter #1 ($haystack) of type string is deprecated in
/var/www/wp-content/themes/LRDesignLLC/includes/builder/module/helpers/HoverOptions.php
on line
71
Deprecated
: strpos(): Passing null to parameter #1 ($haystack) of type string is deprecated in
/var/www/wp-content/themes/LRDesignLLC/includes/builder/module/helpers/HoverOptions.php
on line
71
Deprecated
: strpos(): Passing null to parameter #1 ($haystack) of type string is deprecated in
/var/www/wp-content/themes/LRDesignLLC/includes/builder/module/helpers/HoverOptions.php
on line
71
Deprecated
: strpos(): Passing null to parameter #1 ($haystack) of type string is deprecated in
/var/www/wp-content/themes/LRDesignLLC/includes/builder/module/helpers/HoverOptions.php
on line
71
Deprecated
: strpos(): Passing null to parameter #1 ($haystack) of type string is deprecated in
/var/www/wp-content/themes/LRDesignLLC/includes/builder/module/helpers/HoverOptions.php
on line
71
Deprecated
: strpos(): Passing null to parameter #1 ($haystack) of type string is deprecated in
/var/www/wp-content/themes/LRDesignLLC/includes/builder/module/helpers/HoverOptions.php
on line
71
Deprecated
: strpos(): Passing null to parameter #1 ($haystack) of type string is deprecated in
/var/www/wp-content/themes/LRDesignLLC/includes/builder/module/helpers/HoverOptions.php
on line
71
Deprecated
: strpos(): Passing null to parameter #1 ($haystack) of type string is deprecated in
/var/www/wp-content/themes/LRDesignLLC/includes/builder/module/helpers/HoverOptions.php
on line
71
Deprecated
: strpos(): Passing null to parameter #1 ($haystack) of type string is deprecated in
/var/www/wp-content/themes/LRDesignLLC/includes/builder/module/helpers/HoverOptions.php
on line
71
Deprecated
: strpos(): Passing null to parameter #1 ($haystack) of type string is deprecated in
/var/www/wp-content/themes/LRDesignLLC/includes/builder/module/helpers/HoverOptions.php
on line
71
Deprecated
: strpos(): Passing null to parameter #1 ($haystack) of type string is deprecated in
/var/www/wp-content/themes/LRDesignLLC/includes/builder/module/helpers/HoverOptions.php
on line
71
Deprecated
: strpos(): Passing null to parameter #1 ($haystack) of type string is deprecated in
/var/www/wp-content/themes/LRDesignLLC/includes/builder/module/helpers/HoverOptions.php
on line
71
Deprecated
: strpos(): Passing null to parameter #1 ($haystack) of type string is deprecated in
/var/www/wp-content/themes/LRDesignLLC/includes/builder/module/helpers/HoverOptions.php
on line
71
Deprecated
: rtrim(): Passing null to parameter #1 ($string) of type string is deprecated in
/var/www/wp-content/themes/LRDesignLLC/includes/builder/class-et-builder-element.php
on line
16522
Deprecated
: strpos(): Passing null to parameter #1 ($haystack) of type string is deprecated in
/var/www/wp-content/themes/LRDesignLLC/includes/builder/module/helpers/HoverOptions.php
on line
71
Deprecated
: strpos(): Passing null to parameter #1 ($haystack) of type string is deprecated in
/var/www/wp-content/themes/LRDesignLLC/includes/builder/module/helpers/HoverOptions.php
on line
71
Deprecated
: strpos(): Passing null to parameter #1 ($haystack) of type string is deprecated in
/var/www/wp-content/themes/LRDesignLLC/includes/builder/module/helpers/HoverOptions.php
on line
71
Deprecated
: strpos(): Passing null to parameter #1 ($haystack) of type string is deprecated in
/var/www/wp-content/themes/LRDesignLLC/includes/builder/module/helpers/HoverOptions.php
on line
71
Deprecated
: strpos(): Passing null to parameter #1 ($haystack) of type string is deprecated in
/var/www/wp-content/themes/LRDesignLLC/includes/builder/module/helpers/HoverOptions.php
on line
71
Deprecated
: strpos(): Passing null to parameter #1 ($haystack) of type string is deprecated in
/var/www/wp-content/themes/LRDesignLLC/includes/builder/module/helpers/HoverOptions.php
on line
71
Deprecated
: strpos(): Passing null to parameter #1 ($haystack) of type string is deprecated in
/var/www/wp-content/themes/LRDesignLLC/includes/builder/module/helpers/HoverOptions.php
on line
71
Deprecated
: strpos(): Passing null to parameter #1 ($haystack) of type string is deprecated in
/var/www/wp-content/themes/LRDesignLLC/includes/builder/module/helpers/HoverOptions.php
on line
71
Deprecated
: strpos(): Passing null to parameter #1 ($haystack) of type string is deprecated in
/var/www/wp-content/themes/LRDesignLLC/includes/builder/module/helpers/HoverOptions.php
on line
71
Deprecated
: strpos(): Passing null to parameter #1 ($haystack) of type string is deprecated in
/var/www/wp-content/themes/LRDesignLLC/includes/builder/module/helpers/HoverOptions.php
on line
71
Deprecated
: strpos(): Passing null to parameter #1 ($haystack) of type string is deprecated in
/var/www/wp-content/themes/LRDesignLLC/includes/builder/module/helpers/HoverOptions.php
on line
71
Deprecated
: strpos(): Passing null to parameter #1 ($haystack) of type string is deprecated in
/var/www/wp-content/themes/LRDesignLLC/includes/builder/module/helpers/HoverOptions.php
on line
71
Deprecated
: strpos(): Passing null to parameter #1 ($haystack) of type string is deprecated in
/var/www/wp-content/themes/LRDesignLLC/includes/builder/module/helpers/HoverOptions.php
on line
71
Deprecated
: strpos(): Passing null to parameter #1 ($haystack) of type string is deprecated in
/var/www/wp-content/themes/LRDesignLLC/includes/builder/module/helpers/HoverOptions.php
on line
71
Deprecated
: strpos(): Passing null to parameter #1 ($haystack) of type string is deprecated in
/var/www/wp-content/themes/LRDesignLLC/includes/builder/module/helpers/HoverOptions.php
on line
71
Deprecated
: strpos(): Passing null to parameter #1 ($haystack) of type string is deprecated in
/var/www/wp-content/themes/LRDesignLLC/includes/builder/module/helpers/HoverOptions.php
on line
71
Deprecated
: strpos(): Passing null to parameter #1 ($haystack) of type string is deprecated in
/var/www/wp-content/themes/LRDesignLLC/includes/builder/module/helpers/HoverOptions.php
on line
71
Deprecated
: strpos(): Passing null to parameter #1 ($haystack) of type string is deprecated in
/var/www/wp-content/themes/LRDesignLLC/includes/builder/module/helpers/HoverOptions.php
on line
71
Deprecated
: strpos(): Passing null to parameter #1 ($haystack) of type string is deprecated in
/var/www/wp-content/themes/LRDesignLLC/includes/builder/module/helpers/HoverOptions.php
on line
71
Deprecated
: strpos(): Passing null to parameter #1 ($haystack) of type string is deprecated in
/var/www/wp-content/themes/LRDesignLLC/includes/builder/module/helpers/HoverOptions.php
on line
71
Deprecated
: strpos(): Passing null to parameter #1 ($haystack) of type string is deprecated in
/var/www/wp-content/themes/LRDesignLLC/includes/builder/module/helpers/HoverOptions.php
on line
71
Deprecated
: strpos(): Passing null to parameter #1 ($haystack) of type string is deprecated in
/var/www/wp-content/themes/LRDesignLLC/includes/builder/module/helpers/HoverOptions.php
on line
71
Deprecated
: strpos(): Passing null to parameter #1 ($haystack) of type string is deprecated in
/var/www/wp-content/themes/LRDesignLLC/includes/builder/module/helpers/HoverOptions.php
on line
71
Deprecated
: strpos(): Passing null to parameter #1 ($haystack) of type string is deprecated in
/var/www/wp-content/themes/LRDesignLLC/includes/builder/module/helpers/HoverOptions.php
on line
71
Deprecated
: strpos(): Passing null to parameter #1 ($haystack) of type string is deprecated in
/var/www/wp-content/themes/LRDesignLLC/includes/builder/module/helpers/HoverOptions.php
on line
71
Deprecated
: strpos(): Passing null to parameter #1 ($haystack) of type string is deprecated in
/var/www/wp-content/themes/LRDesignLLC/includes/builder/module/helpers/HoverOptions.php
on line
71
Deprecated
: strpos(): Passing null to parameter #1 ($haystack) of type string is deprecated in
/var/www/wp-content/themes/LRDesignLLC/includes/builder/module/helpers/HoverOptions.php
on line
71
Deprecated
: strpos(): Passing null to parameter #1 ($haystack) of type string is deprecated in
/var/www/wp-content/themes/LRDesignLLC/includes/builder/module/helpers/HoverOptions.php
on line
71
Deprecated
: strpos(): Passing null to parameter #1 ($haystack) of type string is deprecated in
/var/www/wp-content/themes/LRDesignLLC/includes/builder/module/helpers/HoverOptions.php
on line
71
Deprecated
: strpos(): Passing null to parameter #1 ($haystack) of type string is deprecated in
/var/www/wp-content/themes/LRDesignLLC/includes/builder/module/helpers/HoverOptions.php
on line
71
Deprecated
: strpos(): Passing null to parameter #1 ($haystack) of type string is deprecated in
/var/www/wp-content/themes/LRDesignLLC/includes/builder/module/helpers/HoverOptions.php
on line
71
Deprecated
: strpos(): Passing null to parameter #1 ($haystack) of type string is deprecated in
/var/www/wp-content/themes/LRDesignLLC/includes/builder/module/helpers/HoverOptions.php
on line
71
Deprecated
: strpos(): Passing null to parameter #1 ($haystack) of type string is deprecated in
/var/www/wp-content/themes/LRDesignLLC/includes/builder/module/helpers/HoverOptions.php
on line
71
Deprecated
: strpos(): Passing null to parameter #1 ($haystack) of type string is deprecated in
/var/www/wp-content/themes/LRDesignLLC/includes/builder/module/helpers/HoverOptions.php
on line
71
Deprecated
: strpos(): Passing null to parameter #1 ($haystack) of type string is deprecated in
/var/www/wp-content/themes/LRDesignLLC/includes/builder/module/helpers/HoverOptions.php
on line
71
Deprecated
: strpos(): Passing null to parameter #1 ($haystack) of type string is deprecated in
/var/www/wp-content/themes/LRDesignLLC/includes/builder/module/helpers/HoverOptions.php
on line
71
Deprecated
: strpos(): Passing null to parameter #1 ($haystack) of type string is deprecated in
/var/www/wp-content/themes/LRDesignLLC/includes/builder/module/helpers/HoverOptions.php
on line
71
Deprecated
: strpos(): Passing null to parameter #1 ($haystack) of type string is deprecated in
/var/www/wp-content/themes/LRDesignLLC/includes/builder/module/helpers/HoverOptions.php
on line
71
Deprecated
: strpos(): Passing null to parameter #1 ($haystack) of type string is deprecated in
/var/www/wp-content/themes/LRDesignLLC/includes/builder/module/helpers/HoverOptions.php
on line
71
Deprecated
: strpos(): Passing null to parameter #1 ($haystack) of type string is deprecated in
/var/www/wp-content/themes/LRDesignLLC/includes/builder/module/helpers/HoverOptions.php
on line
71
Deprecated
: strpos(): Passing null to parameter #1 ($haystack) of type string is deprecated in
/var/www/wp-content/themes/LRDesignLLC/includes/builder/module/helpers/HoverOptions.php
on line
71
Deprecated
: strpos(): Passing null to parameter #1 ($haystack) of type string is deprecated in
/var/www/wp-content/themes/LRDesignLLC/includes/builder/module/helpers/HoverOptions.php
on line
71
Deprecated
: strpos(): Passing null to parameter #1 ($haystack) of type string is deprecated in
/var/www/wp-content/themes/LRDesignLLC/includes/builder/module/helpers/HoverOptions.php
on line
71
Deprecated
: strpos(): Passing null to parameter #1 ($haystack) of type string is deprecated in
/var/www/wp-content/themes/LRDesignLLC/includes/builder/module/helpers/HoverOptions.php
on line
71
Deprecated
: strpos(): Passing null to parameter #1 ($haystack) of type string is deprecated in
/var/www/wp-content/themes/LRDesignLLC/includes/builder/module/helpers/HoverOptions.php
on line
71
Deprecated
: strpos(): Passing null to parameter #1 ($haystack) of type string is deprecated in
/var/www/wp-content/themes/LRDesignLLC/includes/builder/module/helpers/HoverOptions.php
on line
71
Deprecated
: strpos(): Passing null to parameter #1 ($haystack) of type string is deprecated in
/var/www/wp-content/themes/LRDesignLLC/includes/builder/module/helpers/HoverOptions.php
on line
71
Deprecated
: strpos(): Passing null to parameter #1 ($haystack) of type string is deprecated in
/var/www/wp-content/themes/LRDesignLLC/includes/builder/module/helpers/HoverOptions.php
on line
71
Deprecated
: strpos(): Passing null to parameter #1 ($haystack) of type string is deprecated in
/var/www/wp-content/themes/LRDesignLLC/includes/builder/module/helpers/HoverOptions.php
on line
71
Deprecated
: strpos(): Passing null to parameter #1 ($haystack) of type string is deprecated in
/var/www/wp-content/themes/LRDesignLLC/includes/builder/module/helpers/HoverOptions.php
on line
71
Deprecated
: strpos(): Passing null to parameter #1 ($haystack) of type string is deprecated in
/var/www/wp-content/themes/LRDesignLLC/includes/builder/module/helpers/HoverOptions.php
on line
71
Deprecated
: strpos(): Passing null to parameter #1 ($haystack) of type string is deprecated in
/var/www/wp-content/themes/LRDesignLLC/includes/builder/module/helpers/HoverOptions.php
on line
71
Deprecated
: strpos(): Passing null to parameter #1 ($haystack) of type string is deprecated in
/var/www/wp-content/themes/LRDesignLLC/includes/builder/module/helpers/HoverOptions.php
on line
71
Deprecated
: strpos(): Passing null to parameter #1 ($haystack) of type string is deprecated in
/var/www/wp-content/themes/LRDesignLLC/includes/builder/module/helpers/HoverOptions.php
on line
71
Deprecated
: strpos(): Passing null to parameter #1 ($haystack) of type string is deprecated in
/var/www/wp-content/themes/LRDesignLLC/includes/builder/module/helpers/HoverOptions.php
on line
71
Deprecated
: strpos(): Passing null to parameter #1 ($haystack) of type string is deprecated in
/var/www/wp-content/themes/LRDesignLLC/includes/builder/module/helpers/HoverOptions.php
on line
71
Deprecated
: strpos(): Passing null to parameter #1 ($haystack) of type string is deprecated in
/var/www/wp-content/themes/LRDesignLLC/includes/builder/module/helpers/HoverOptions.php
on line
71
Deprecated
: strpos(): Passing null to parameter #1 ($haystack) of type string is deprecated in
/var/www/wp-content/themes/LRDesignLLC/includes/builder/module/helpers/HoverOptions.php
on line
71
Deprecated
: strpos(): Passing null to parameter #1 ($haystack) of type string is deprecated in
/var/www/wp-content/themes/LRDesignLLC/includes/builder/module/helpers/HoverOptions.php
on line
71
Deprecated
: strpos(): Passing null to parameter #1 ($haystack) of type string is deprecated in
/var/www/wp-content/themes/LRDesignLLC/includes/builder/module/helpers/HoverOptions.php
on line
71
Deprecated
: strpos(): Passing null to parameter #1 ($haystack) of type string is deprecated in
/var/www/wp-content/themes/LRDesignLLC/includes/builder/module/helpers/HoverOptions.php
on line
71
Deprecated
: strpos(): Passing null to parameter #1 ($haystack) of type string is deprecated in
/var/www/wp-content/themes/LRDesignLLC/includes/builder/module/helpers/HoverOptions.php
on line
71
Deprecated
: strpos(): Passing null to parameter #1 ($haystack) of type string is deprecated in
/var/www/wp-content/themes/LRDesignLLC/includes/builder/module/helpers/HoverOptions.php
on line
71
Deprecated
: strpos(): Passing null to parameter #1 ($haystack) of type string is deprecated in
/var/www/wp-content/themes/LRDesignLLC/includes/builder/module/helpers/HoverOptions.php
on line
71
Deprecated
: strpos(): Passing null to parameter #1 ($haystack) of type string is deprecated in
/var/www/wp-content/themes/LRDesignLLC/includes/builder/module/helpers/HoverOptions.php
on line
71
Deprecated
: strpos(): Passing null to parameter #1 ($haystack) of type string is deprecated in
/var/www/wp-content/themes/LRDesignLLC/includes/builder/module/helpers/HoverOptions.php
on line
71
Deprecated
: strpos(): Passing null to parameter #1 ($haystack) of type string is deprecated in
/var/www/wp-content/themes/LRDesignLLC/includes/builder/module/helpers/HoverOptions.php
on line
71
Deprecated
: strpos(): Passing null to parameter #1 ($haystack) of type string is deprecated in
/var/www/wp-content/themes/LRDesignLLC/includes/builder/module/helpers/HoverOptions.php
on line
71
Deprecated
: strpos(): Passing null to parameter #1 ($haystack) of type string is deprecated in
/var/www/wp-content/themes/LRDesignLLC/includes/builder/module/helpers/HoverOptions.php
on line
71
Deprecated
: strpos(): Passing null to parameter #1 ($haystack) of type string is deprecated in
/var/www/wp-content/themes/LRDesignLLC/includes/builder/module/helpers/HoverOptions.php
on line
71
Deprecated
: strpos(): Passing null to parameter #1 ($haystack) of type string is deprecated in
/var/www/wp-content/themes/LRDesignLLC/includes/builder/module/helpers/HoverOptions.php
on line
71
Deprecated
: strpos(): Passing null to parameter #1 ($haystack) of type string is deprecated in
/var/www/wp-content/themes/LRDesignLLC/includes/builder/module/helpers/HoverOptions.php
on line
71
Deprecated
: strpos(): Passing null to parameter #1 ($haystack) of type string is deprecated in
/var/www/wp-content/themes/LRDesignLLC/includes/builder/module/helpers/HoverOptions.php
on line
71
Deprecated
: strpos(): Passing null to parameter #1 ($haystack) of type string is deprecated in
/var/www/wp-content/themes/LRDesignLLC/includes/builder/module/helpers/HoverOptions.php
on line
71
Deprecated
: strpos(): Passing null to parameter #1 ($haystack) of type string is deprecated in
/var/www/wp-content/themes/LRDesignLLC/includes/builder/module/helpers/HoverOptions.php
on line
71
Deprecated
: strpos(): Passing null to parameter #1 ($haystack) of type string is deprecated in
/var/www/wp-content/themes/LRDesignLLC/includes/builder/module/helpers/HoverOptions.php
on line
71
Deprecated
: strpos(): Passing null to parameter #1 ($haystack) of type string is deprecated in
/var/www/wp-content/themes/LRDesignLLC/includes/builder/module/helpers/HoverOptions.php
on line
71
Deprecated
: strpos(): Passing null to parameter #1 ($haystack) of type string is deprecated in
/var/www/wp-content/themes/LRDesignLLC/includes/builder/module/helpers/HoverOptions.php
on line
71
Deprecated
: strpos(): Passing null to parameter #1 ($haystack) of type string is deprecated in
/var/www/wp-content/themes/LRDesignLLC/includes/builder/module/helpers/HoverOptions.php
on line
71
Deprecated
: strpos(): Passing null to parameter #1 ($haystack) of type string is deprecated in
/var/www/wp-content/themes/LRDesignLLC/includes/builder/module/helpers/HoverOptions.php
on line
71
Deprecated
: strpos(): Passing null to parameter #1 ($haystack) of type string is deprecated in
/var/www/wp-content/themes/LRDesignLLC/includes/builder/module/helpers/HoverOptions.php
on line
71
Deprecated
: strpos(): Passing null to parameter #1 ($haystack) of type string is deprecated in
/var/www/wp-content/themes/LRDesignLLC/includes/builder/module/helpers/HoverOptions.php
on line
71
Deprecated
: strpos(): Passing null to parameter #1 ($haystack) of type string is deprecated in
/var/www/wp-content/themes/LRDesignLLC/includes/builder/module/helpers/HoverOptions.php
on line
71
Deprecated
: strpos(): Passing null to parameter #1 ($haystack) of type string is deprecated in
/var/www/wp-content/themes/LRDesignLLC/includes/builder/module/helpers/HoverOptions.php
on line
71
Deprecated
: strpos(): Passing null to parameter #1 ($haystack) of type string is deprecated in
/var/www/wp-content/themes/LRDesignLLC/includes/builder/module/helpers/HoverOptions.php
on line
71
Deprecated
: strpos(): Passing null to parameter #1 ($haystack) of type string is deprecated in
/var/www/wp-content/themes/LRDesignLLC/includes/builder/module/helpers/HoverOptions.php
on line
71
Deprecated
: strpos(): Passing null to parameter #1 ($haystack) of type string is deprecated in
/var/www/wp-content/themes/LRDesignLLC/includes/builder/module/helpers/HoverOptions.php
on line
71
Deprecated
: strpos(): Passing null to parameter #1 ($haystack) of type string is deprecated in
/var/www/wp-content/themes/LRDesignLLC/includes/builder/module/helpers/HoverOptions.php
on line
71
Deprecated
: strpos(): Passing null to parameter #1 ($haystack) of type string is deprecated in
/var/www/wp-content/themes/LRDesignLLC/includes/builder/module/helpers/HoverOptions.php
on line
71
Deprecated
: strpos(): Passing null to parameter #1 ($haystack) of type string is deprecated in
/var/www/wp-content/themes/LRDesignLLC/includes/builder/module/helpers/HoverOptions.php
on line
71
Deprecated
: strpos(): Passing null to parameter #1 ($haystack) of type string is deprecated in
/var/www/wp-content/themes/LRDesignLLC/includes/builder/module/helpers/HoverOptions.php
on line
71
Deprecated
: strpos(): Passing null to parameter #1 ($haystack) of type string is deprecated in
/var/www/wp-content/themes/LRDesignLLC/includes/builder/module/helpers/HoverOptions.php
on line
71
Deprecated
: strpos(): Passing null to parameter #1 ($haystack) of type string is deprecated in
/var/www/wp-content/themes/LRDesignLLC/includes/builder/module/helpers/HoverOptions.php
on line
71
Deprecated
: strpos(): Passing null to parameter #1 ($haystack) of type string is deprecated in
/var/www/wp-content/themes/LRDesignLLC/includes/builder/module/helpers/HoverOptions.php
on line
71
Deprecated
: strpos(): Passing null to parameter #1 ($haystack) of type string is deprecated in
/var/www/wp-content/themes/LRDesignLLC/includes/builder/module/helpers/HoverOptions.php
on line
71
Deprecated
: strpos(): Passing null to parameter #1 ($haystack) of type string is deprecated in
/var/www/wp-content/themes/LRDesignLLC/includes/builder/module/helpers/HoverOptions.php
on line
71
Deprecated
: strpos(): Passing null to parameter #1 ($haystack) of type string is deprecated in
/var/www/wp-content/themes/LRDesignLLC/includes/builder/module/helpers/HoverOptions.php
on line
71
Deprecated
: strpos(): Passing null to parameter #1 ($haystack) of type string is deprecated in
/var/www/wp-content/themes/LRDesignLLC/includes/builder/module/helpers/HoverOptions.php
on line
71
Deprecated
: strpos(): Passing null to parameter #1 ($haystack) of type string is deprecated in
/var/www/wp-content/themes/LRDesignLLC/includes/builder/module/helpers/HoverOptions.php
on line
71
Deprecated
: strpos(): Passing null to parameter #1 ($haystack) of type string is deprecated in
/var/www/wp-content/themes/LRDesignLLC/includes/builder/module/helpers/HoverOptions.php
on line
71
Deprecated
: strpos(): Passing null to parameter #1 ($haystack) of type string is deprecated in
/var/www/wp-content/themes/LRDesignLLC/includes/builder/module/helpers/HoverOptions.php
on line
71
Deprecated
: strpos(): Passing null to parameter #1 ($haystack) of type string is deprecated in
/var/www/wp-content/themes/LRDesignLLC/includes/builder/module/helpers/HoverOptions.php
on line
71
Deprecated
: strpos(): Passing null to parameter #1 ($haystack) of type string is deprecated in
/var/www/wp-content/themes/LRDesignLLC/includes/builder/module/helpers/HoverOptions.php
on line
71
Deprecated
: strpos(): Passing null to parameter #1 ($haystack) of type string is deprecated in
/var/www/wp-content/themes/LRDesignLLC/includes/builder/module/helpers/HoverOptions.php
on line
71
Deprecated
: strpos(): Passing null to parameter #1 ($haystack) of type string is deprecated in
/var/www/wp-content/themes/LRDesignLLC/includes/builder/module/helpers/HoverOptions.php
on line
71
Deprecated
: strpos(): Passing null to parameter #1 ($haystack) of type string is deprecated in
/var/www/wp-content/themes/LRDesignLLC/includes/builder/module/helpers/HoverOptions.php
on line
71
Deprecated
: strpos(): Passing null to parameter #1 ($haystack) of type string is deprecated in
/var/www/wp-content/themes/LRDesignLLC/includes/builder/module/helpers/HoverOptions.php
on line
71
Deprecated
: strpos(): Passing null to parameter #1 ($haystack) of type string is deprecated in
/var/www/wp-content/themes/LRDesignLLC/includes/builder/module/helpers/HoverOptions.php
on line
71
Deprecated
: strpos(): Passing null to parameter #1 ($haystack) of type string is deprecated in
/var/www/wp-content/themes/LRDesignLLC/includes/builder/module/helpers/HoverOptions.php
on line
71
Deprecated
: strpos(): Passing null to parameter #1 ($haystack) of type string is deprecated in
/var/www/wp-content/themes/LRDesignLLC/includes/builder/module/helpers/HoverOptions.php
on line
71
Deprecated
: strpos(): Passing null to parameter #1 ($haystack) of type string is deprecated in
/var/www/wp-content/themes/LRDesignLLC/includes/builder/module/helpers/HoverOptions.php
on line
71
Deprecated
: strpos(): Passing null to parameter #1 ($haystack) of type string is deprecated in
/var/www/wp-content/themes/LRDesignLLC/includes/builder/module/helpers/HoverOptions.php
on line
71
Deprecated
: strpos(): Passing null to parameter #1 ($haystack) of type string is deprecated in
/var/www/wp-content/themes/LRDesignLLC/includes/builder/module/helpers/HoverOptions.php
on line
71
Deprecated
: strpos(): Passing null to parameter #1 ($haystack) of type string is deprecated in
/var/www/wp-content/themes/LRDesignLLC/includes/builder/module/helpers/HoverOptions.php
on line
71
Deprecated
: strpos(): Passing null to parameter #1 ($haystack) of type string is deprecated in
/var/www/wp-content/themes/LRDesignLLC/includes/builder/module/helpers/HoverOptions.php
on line
71
Deprecated
: strpos(): Passing null to parameter #1 ($haystack) of type string is deprecated in
/var/www/wp-content/themes/LRDesignLLC/includes/builder/module/helpers/HoverOptions.php
on line
71
Deprecated
: strpos(): Passing null to parameter #1 ($haystack) of type string is deprecated in
/var/www/wp-content/themes/LRDesignLLC/includes/builder/module/helpers/HoverOptions.php
on line
71
Deprecated
: strpos(): Passing null to parameter #1 ($haystack) of type string is deprecated in
/var/www/wp-content/themes/LRDesignLLC/includes/builder/module/helpers/HoverOptions.php
on line
71
Deprecated
: strpos(): Passing null to parameter #1 ($haystack) of type string is deprecated in
/var/www/wp-content/themes/LRDesignLLC/includes/builder/module/helpers/HoverOptions.php
on line
71
Deprecated
: strpos(): Passing null to parameter #1 ($haystack) of type string is deprecated in
/var/www/wp-content/themes/LRDesignLLC/includes/builder/module/helpers/HoverOptions.php
on line
71
Deprecated
: strpos(): Passing null to parameter #1 ($haystack) of type string is deprecated in
/var/www/wp-content/themes/LRDesignLLC/includes/builder/module/helpers/HoverOptions.php
on line
71
Deprecated
: strpos(): Passing null to parameter #1 ($haystack) of type string is deprecated in
/var/www/wp-content/themes/LRDesignLLC/includes/builder/module/helpers/HoverOptions.php
on line
71
Deprecated
: strpos(): Passing null to parameter #1 ($haystack) of type string is deprecated in
/var/www/wp-content/themes/LRDesignLLC/includes/builder/module/helpers/HoverOptions.php
on line
71
Deprecated
: strpos(): Passing null to parameter #1 ($haystack) of type string is deprecated in
/var/www/wp-content/themes/LRDesignLLC/includes/builder/module/helpers/HoverOptions.php
on line
71
Deprecated
: strpos(): Passing null to parameter #1 ($haystack) of type string is deprecated in
/var/www/wp-content/themes/LRDesignLLC/includes/builder/module/helpers/HoverOptions.php
on line
71
Deprecated
: strpos(): Passing null to parameter #1 ($haystack) of type string is deprecated in
/var/www/wp-content/themes/LRDesignLLC/includes/builder/module/helpers/HoverOptions.php
on line
71
Deprecated
: strpos(): Passing null to parameter #1 ($haystack) of type string is deprecated in
/var/www/wp-content/themes/LRDesignLLC/includes/builder/module/helpers/HoverOptions.php
on line
71
Deprecated
: strpos(): Passing null to parameter #1 ($haystack) of type string is deprecated in
/var/www/wp-content/themes/LRDesignLLC/includes/builder/module/helpers/HoverOptions.php
on line
71
Deprecated
: strpos(): Passing null to parameter #1 ($haystack) of type string is deprecated in
/var/www/wp-content/themes/LRDesignLLC/includes/builder/module/helpers/HoverOptions.php
on line
71
Deprecated
: strpos(): Passing null to parameter #1 ($haystack) of type string is deprecated in
/var/www/wp-content/themes/LRDesignLLC/includes/builder/module/helpers/HoverOptions.php
on line
71
Deprecated
: rtrim(): Passing null to parameter #1 ($string) of type string is deprecated in
/var/www/wp-content/themes/LRDesignLLC/includes/builder/class-et-builder-element.php
on line
16522
Deprecated
: strpos(): Passing null to parameter #1 ($haystack) of type string is deprecated in
/var/www/wp-content/themes/LRDesignLLC/includes/builder/module/helpers/HoverOptions.php
on line
71
Deprecated
: strpos(): Passing null to parameter #1 ($haystack) of type string is deprecated in
/var/www/wp-content/themes/LRDesignLLC/includes/builder/module/helpers/HoverOptions.php
on line
71
Deprecated
: strpos(): Passing null to parameter #1 ($haystack) of type string is deprecated in
/var/www/wp-content/themes/LRDesignLLC/includes/builder/module/helpers/HoverOptions.php
on line
71
Deprecated
: strpos(): Passing null to parameter #1 ($haystack) of type string is deprecated in
/var/www/wp-content/themes/LRDesignLLC/includes/builder/module/helpers/HoverOptions.php
on line
71
Deprecated
: strpos(): Passing null to parameter #1 ($haystack) of type string is deprecated in
/var/www/wp-content/themes/LRDesignLLC/includes/builder/module/helpers/HoverOptions.php
on line
71
Deprecated
: strpos(): Passing null to parameter #1 ($haystack) of type string is deprecated in
/var/www/wp-content/themes/LRDesignLLC/includes/builder/module/helpers/HoverOptions.php
on line
71
Deprecated
: strpos(): Passing null to parameter #1 ($haystack) of type string is deprecated in
/var/www/wp-content/themes/LRDesignLLC/includes/builder/module/helpers/HoverOptions.php
on line
71
Deprecated
: strpos(): Passing null to parameter #1 ($haystack) of type string is deprecated in
/var/www/wp-content/themes/LRDesignLLC/includes/builder/module/helpers/HoverOptions.php
on line
71
Deprecated
: strpos(): Passing null to parameter #1 ($haystack) of type string is deprecated in
/var/www/wp-content/themes/LRDesignLLC/includes/builder/module/helpers/HoverOptions.php
on line
71
Deprecated
: strpos(): Passing null to parameter #1 ($haystack) of type string is deprecated in
/var/www/wp-content/themes/LRDesignLLC/includes/builder/module/helpers/HoverOptions.php
on line
71
Deprecated
: strpos(): Passing null to parameter #1 ($haystack) of type string is deprecated in
/var/www/wp-content/themes/LRDesignLLC/includes/builder/module/helpers/HoverOptions.php
on line
71
Deprecated
: strpos(): Passing null to parameter #1 ($haystack) of type string is deprecated in
/var/www/wp-content/themes/LRDesignLLC/includes/builder/module/helpers/HoverOptions.php
on line
71
Deprecated
: strpos(): Passing null to parameter #1 ($haystack) of type string is deprecated in
/var/www/wp-content/themes/LRDesignLLC/includes/builder/module/helpers/HoverOptions.php
on line
71
Deprecated
: strpos(): Passing null to parameter #1 ($haystack) of type string is deprecated in
/var/www/wp-content/themes/LRDesignLLC/includes/builder/module/helpers/HoverOptions.php
on line
71
Deprecated
: strpos(): Passing null to parameter #1 ($haystack) of type string is deprecated in
/var/www/wp-content/themes/LRDesignLLC/includes/builder/module/helpers/HoverOptions.php
on line
71
Deprecated
: strpos(): Passing null to parameter #1 ($haystack) of type string is deprecated in
/var/www/wp-content/themes/LRDesignLLC/includes/builder/module/helpers/HoverOptions.php
on line
71
Deprecated
: strpos(): Passing null to parameter #1 ($haystack) of type string is deprecated in
/var/www/wp-content/themes/LRDesignLLC/includes/builder/module/helpers/HoverOptions.php
on line
71
Deprecated
: strpos(): Passing null to parameter #1 ($haystack) of type string is deprecated in
/var/www/wp-content/themes/LRDesignLLC/includes/builder/module/helpers/HoverOptions.php
on line
71
Deprecated
: strpos(): Passing null to parameter #1 ($haystack) of type string is deprecated in
/var/www/wp-content/themes/LRDesignLLC/includes/builder/module/helpers/HoverOptions.php
on line
71
Deprecated
: strpos(): Passing null to parameter #1 ($haystack) of type string is deprecated in
/var/www/wp-content/themes/LRDesignLLC/includes/builder/module/helpers/HoverOptions.php
on line
71
Deprecated
: strpos(): Passing null to parameter #1 ($haystack) of type string is deprecated in
/var/www/wp-content/themes/LRDesignLLC/includes/builder/module/helpers/HoverOptions.php
on line
71
Deprecated
: strpos(): Passing null to parameter #1 ($haystack) of type string is deprecated in
/var/www/wp-content/themes/LRDesignLLC/includes/builder/module/helpers/HoverOptions.php
on line
71
Deprecated
: strpos(): Passing null to parameter #1 ($haystack) of type string is deprecated in
/var/www/wp-content/themes/LRDesignLLC/includes/builder/module/helpers/HoverOptions.php
on line
71
Deprecated
: strpos(): Passing null to parameter #1 ($haystack) of type string is deprecated in
/var/www/wp-content/themes/LRDesignLLC/includes/builder/module/helpers/HoverOptions.php
on line
71
Deprecated
: strpos(): Passing null to parameter #1 ($haystack) of type string is deprecated in
/var/www/wp-content/themes/LRDesignLLC/includes/builder/module/helpers/HoverOptions.php
on line
71
Deprecated
: strpos(): Passing null to parameter #1 ($haystack) of type string is deprecated in
/var/www/wp-content/themes/LRDesignLLC/includes/builder/module/helpers/HoverOptions.php
on line
71
Deprecated
: strpos(): Passing null to parameter #1 ($haystack) of type string is deprecated in
/var/www/wp-content/themes/LRDesignLLC/includes/builder/module/helpers/HoverOptions.php
on line
71
Deprecated
: strpos(): Passing null to parameter #1 ($haystack) of type string is deprecated in
/var/www/wp-content/themes/LRDesignLLC/includes/builder/module/helpers/HoverOptions.php
on line
71
Deprecated
: strpos(): Passing null to parameter #1 ($haystack) of type string is deprecated in
/var/www/wp-content/themes/LRDesignLLC/includes/builder/module/helpers/HoverOptions.php
on line
71
Deprecated
: strpos(): Passing null to parameter #1 ($haystack) of type string is deprecated in
/var/www/wp-content/themes/LRDesignLLC/includes/builder/module/helpers/HoverOptions.php
on line
71
Deprecated
: strpos(): Passing null to parameter #1 ($haystack) of type string is deprecated in
/var/www/wp-content/themes/LRDesignLLC/includes/builder/module/helpers/HoverOptions.php
on line
71
Deprecated
: strpos(): Passing null to parameter #1 ($haystack) of type string is deprecated in
/var/www/wp-content/themes/LRDesignLLC/includes/builder/module/helpers/HoverOptions.php
on line
71
Deprecated
: strpos(): Passing null to parameter #1 ($haystack) of type string is deprecated in
/var/www/wp-content/themes/LRDesignLLC/includes/builder/module/helpers/HoverOptions.php
on line
71
Deprecated
: strpos(): Passing null to parameter #1 ($haystack) of type string is deprecated in
/var/www/wp-content/themes/LRDesignLLC/includes/builder/module/helpers/HoverOptions.php
on line
71
Deprecated
: strpos(): Passing null to parameter #1 ($haystack) of type string is deprecated in
/var/www/wp-content/themes/LRDesignLLC/includes/builder/module/helpers/HoverOptions.php
on line
71
Deprecated
: strpos(): Passing null to parameter #1 ($haystack) of type string is deprecated in
/var/www/wp-content/themes/LRDesignLLC/includes/builder/module/helpers/HoverOptions.php
on line
71
Deprecated
: strpos(): Passing null to parameter #1 ($haystack) of type string is deprecated in
/var/www/wp-content/themes/LRDesignLLC/includes/builder/module/helpers/HoverOptions.php
on line
71
Deprecated
: strpos(): Passing null to parameter #1 ($haystack) of type string is deprecated in
/var/www/wp-content/themes/LRDesignLLC/includes/builder/module/helpers/HoverOptions.php
on line
71
Deprecated
: strpos(): Passing null to parameter #1 ($haystack) of type string is deprecated in
/var/www/wp-content/themes/LRDesignLLC/includes/builder/module/helpers/HoverOptions.php
on line
71
Deprecated
: strpos(): Passing null to parameter #1 ($haystack) of type string is deprecated in
/var/www/wp-content/themes/LRDesignLLC/includes/builder/module/helpers/HoverOptions.php
on line
71
Deprecated
: strpos(): Passing null to parameter #1 ($haystack) of type string is deprecated in
/var/www/wp-content/themes/LRDesignLLC/includes/builder/module/helpers/HoverOptions.php
on line
71
Deprecated
: strpos(): Passing null to parameter #1 ($haystack) of type string is deprecated in
/var/www/wp-content/themes/LRDesignLLC/includes/builder/module/helpers/HoverOptions.php
on line
71
Deprecated
: strpos(): Passing null to parameter #1 ($haystack) of type string is deprecated in
/var/www/wp-content/themes/LRDesignLLC/includes/builder/module/helpers/HoverOptions.php
on line
71
Deprecated
: strpos(): Passing null to parameter #1 ($haystack) of type string is deprecated in
/var/www/wp-content/themes/LRDesignLLC/includes/builder/module/helpers/HoverOptions.php
on line
71
Deprecated
: strpos(): Passing null to parameter #1 ($haystack) of type string is deprecated in
/var/www/wp-content/themes/LRDesignLLC/includes/builder/module/helpers/HoverOptions.php
on line
71
Deprecated
: strpos(): Passing null to parameter #1 ($haystack) of type string is deprecated in
/var/www/wp-content/themes/LRDesignLLC/includes/builder/module/helpers/HoverOptions.php
on line
71
Deprecated
: strpos(): Passing null to parameter #1 ($haystack) of type string is deprecated in
/var/www/wp-content/themes/LRDesignLLC/includes/builder/module/helpers/HoverOptions.php
on line
71
Deprecated
: strpos(): Passing null to parameter #1 ($haystack) of type string is deprecated in
/var/www/wp-content/themes/LRDesignLLC/includes/builder/module/helpers/HoverOptions.php
on line
71
Deprecated
: strpos(): Passing null to parameter #1 ($haystack) of type string is deprecated in
/var/www/wp-content/themes/LRDesignLLC/includes/builder/module/helpers/HoverOptions.php
on line
71
Deprecated
: strpos(): Passing null to parameter #1 ($haystack) of type string is deprecated in
/var/www/wp-content/themes/LRDesignLLC/includes/builder/module/helpers/HoverOptions.php
on line
71
Deprecated
: strpos(): Passing null to parameter #1 ($haystack) of type string is deprecated in
/var/www/wp-content/themes/LRDesignLLC/includes/builder/module/helpers/HoverOptions.php
on line
71
Deprecated
: strpos(): Passing null to parameter #1 ($haystack) of type string is deprecated in
/var/www/wp-content/themes/LRDesignLLC/includes/builder/module/helpers/HoverOptions.php
on line
71
Deprecated
: strpos(): Passing null to parameter #1 ($haystack) of type string is deprecated in
/var/www/wp-content/themes/LRDesignLLC/includes/builder/module/helpers/HoverOptions.php
on line
71
Deprecated
: strpos(): Passing null to parameter #1 ($haystack) of type string is deprecated in
/var/www/wp-content/themes/LRDesignLLC/includes/builder/module/helpers/HoverOptions.php
on line
71
Deprecated
: strpos(): Passing null to parameter #1 ($haystack) of type string is deprecated in
/var/www/wp-content/themes/LRDesignLLC/includes/builder/module/helpers/HoverOptions.php
on line
71
Deprecated
: strpos(): Passing null to parameter #1 ($haystack) of type string is deprecated in
/var/www/wp-content/themes/LRDesignLLC/includes/builder/module/helpers/HoverOptions.php
on line
71
Deprecated
: strpos(): Passing null to parameter #1 ($haystack) of type string is deprecated in
/var/www/wp-content/themes/LRDesignLLC/includes/builder/module/helpers/HoverOptions.php
on line
71
Deprecated
: strpos(): Passing null to parameter #1 ($haystack) of type string is deprecated in
/var/www/wp-content/themes/LRDesignLLC/includes/builder/module/helpers/HoverOptions.php
on line
71
Deprecated
: strpos(): Passing null to parameter #1 ($haystack) of type string is deprecated in
/var/www/wp-content/themes/LRDesignLLC/includes/builder/module/helpers/HoverOptions.php
on line
71
Deprecated
: strpos(): Passing null to parameter #1 ($haystack) of type string is deprecated in
/var/www/wp-content/themes/LRDesignLLC/includes/builder/module/helpers/HoverOptions.php
on line
71
Deprecated
: strpos(): Passing null to parameter #1 ($haystack) of type string is deprecated in
/var/www/wp-content/themes/LRDesignLLC/includes/builder/module/helpers/HoverOptions.php
on line
71
Deprecated
: strpos(): Passing null to parameter #1 ($haystack) of type string is deprecated in
/var/www/wp-content/themes/LRDesignLLC/includes/builder/module/helpers/HoverOptions.php
on line
71
Deprecated
: strpos(): Passing null to parameter #1 ($haystack) of type string is deprecated in
/var/www/wp-content/themes/LRDesignLLC/includes/builder/module/helpers/HoverOptions.php
on line
71
Deprecated
: strpos(): Passing null to parameter #1 ($haystack) of type string is deprecated in
/var/www/wp-content/themes/LRDesignLLC/includes/builder/module/helpers/HoverOptions.php
on line
71
Deprecated
: strpos(): Passing null to parameter #1 ($haystack) of type string is deprecated in
/var/www/wp-content/themes/LRDesignLLC/includes/builder/module/helpers/HoverOptions.php
on line
71
Deprecated
: strpos(): Passing null to parameter #1 ($haystack) of type string is deprecated in
/var/www/wp-content/themes/LRDesignLLC/includes/builder/module/helpers/HoverOptions.php
on line
71
Deprecated
: strpos(): Passing null to parameter #1 ($haystack) of type string is deprecated in
/var/www/wp-content/themes/LRDesignLLC/includes/builder/module/helpers/HoverOptions.php
on line
71
Deprecated
: strpos(): Passing null to parameter #1 ($haystack) of type string is deprecated in
/var/www/wp-content/themes/LRDesignLLC/includes/builder/module/helpers/HoverOptions.php
on line
71
Deprecated
: strpos(): Passing null to parameter #1 ($haystack) of type string is deprecated in
/var/www/wp-content/themes/LRDesignLLC/includes/builder/module/helpers/HoverOptions.php
on line
71
Deprecated
: strpos(): Passing null to parameter #1 ($haystack) of type string is deprecated in
/var/www/wp-content/themes/LRDesignLLC/includes/builder/module/helpers/HoverOptions.php
on line
71
Deprecated
: strpos(): Passing null to parameter #1 ($haystack) of type string is deprecated in
/var/www/wp-content/themes/LRDesignLLC/includes/builder/module/helpers/HoverOptions.php
on line
71
Deprecated
: strpos(): Passing null to parameter #1 ($haystack) of type string is deprecated in
/var/www/wp-content/themes/LRDesignLLC/includes/builder/module/helpers/HoverOptions.php
on line
71
Deprecated
: strpos(): Passing null to parameter #1 ($haystack) of type string is deprecated in
/var/www/wp-content/themes/LRDesignLLC/includes/builder/module/helpers/HoverOptions.php
on line
71
Deprecated
: strpos(): Passing null to parameter #1 ($haystack) of type string is deprecated in
/var/www/wp-content/themes/LRDesignLLC/includes/builder/module/helpers/HoverOptions.php
on line
71
Deprecated
: strpos(): Passing null to parameter #1 ($haystack) of type string is deprecated in
/var/www/wp-content/themes/LRDesignLLC/includes/builder/module/helpers/HoverOptions.php
on line
71
Deprecated
: strpos(): Passing null to parameter #1 ($haystack) of type string is deprecated in
/var/www/wp-content/themes/LRDesignLLC/includes/builder/module/helpers/HoverOptions.php
on line
71
Deprecated
: strpos(): Passing null to parameter #1 ($haystack) of type string is deprecated in
/var/www/wp-content/themes/LRDesignLLC/includes/builder/module/helpers/HoverOptions.php
on line
71
Deprecated
: strpos(): Passing null to parameter #1 ($haystack) of type string is deprecated in
/var/www/wp-content/themes/LRDesignLLC/includes/builder/module/helpers/HoverOptions.php
on line
71
Deprecated
: strpos(): Passing null to parameter #1 ($haystack) of type string is deprecated in
/var/www/wp-content/themes/LRDesignLLC/includes/builder/module/helpers/HoverOptions.php
on line
71
Deprecated
: strpos(): Passing null to parameter #1 ($haystack) of type string is deprecated in
/var/www/wp-content/themes/LRDesignLLC/includes/builder/module/helpers/HoverOptions.php
on line
71
Deprecated
: strpos(): Passing null to parameter #1 ($haystack) of type string is deprecated in
/var/www/wp-content/themes/LRDesignLLC/includes/builder/module/helpers/HoverOptions.php
on line
71
Deprecated
: strpos(): Passing null to parameter #1 ($haystack) of type string is deprecated in
/var/www/wp-content/themes/LRDesignLLC/includes/builder/module/helpers/HoverOptions.php
on line
71
Deprecated
: strpos(): Passing null to parameter #1 ($haystack) of type string is deprecated in
/var/www/wp-content/themes/LRDesignLLC/includes/builder/module/helpers/HoverOptions.php
on line
71
Deprecated
: strpos(): Passing null to parameter #1 ($haystack) of type string is deprecated in
/var/www/wp-content/themes/LRDesignLLC/includes/builder/module/helpers/HoverOptions.php
on line
71
Deprecated
: strpos(): Passing null to parameter #1 ($haystack) of type string is deprecated in
/var/www/wp-content/themes/LRDesignLLC/includes/builder/module/helpers/HoverOptions.php
on line
71
Deprecated
: strpos(): Passing null to parameter #1 ($haystack) of type string is deprecated in
/var/www/wp-content/themes/LRDesignLLC/includes/builder/module/helpers/HoverOptions.php
on line
71
Deprecated
: strpos(): Passing null to parameter #1 ($haystack) of type string is deprecated in
/var/www/wp-content/themes/LRDesignLLC/includes/builder/module/helpers/HoverOptions.php
on line
71
Deprecated
: strpos(): Passing null to parameter #1 ($haystack) of type string is deprecated in
/var/www/wp-content/themes/LRDesignLLC/includes/builder/module/helpers/HoverOptions.php
on line
71
Deprecated
: strpos(): Passing null to parameter #1 ($haystack) of type string is deprecated in
/var/www/wp-content/themes/LRDesignLLC/includes/builder/module/helpers/HoverOptions.php
on line
71
Deprecated
: strpos(): Passing null to parameter #1 ($haystack) of type string is deprecated in
/var/www/wp-content/themes/LRDesignLLC/includes/builder/module/helpers/HoverOptions.php
on line
71
Deprecated
: strpos(): Passing null to parameter #1 ($haystack) of type string is deprecated in
/var/www/wp-content/themes/LRDesignLLC/includes/builder/module/helpers/HoverOptions.php
on line
71
Deprecated
: strpos(): Passing null to parameter #1 ($haystack) of type string is deprecated in
/var/www/wp-content/themes/LRDesignLLC/includes/builder/module/helpers/HoverOptions.php
on line
71
Deprecated
: strpos(): Passing null to parameter #1 ($haystack) of type string is deprecated in
/var/www/wp-content/themes/LRDesignLLC/includes/builder/module/helpers/HoverOptions.php
on line
71
Deprecated
: strpos(): Passing null to parameter #1 ($haystack) of type string is deprecated in
/var/www/wp-content/themes/LRDesignLLC/includes/builder/module/helpers/HoverOptions.php
on line
71
Deprecated
: strpos(): Passing null to parameter #1 ($haystack) of type string is deprecated in
/var/www/wp-content/themes/LRDesignLLC/includes/builder/module/helpers/HoverOptions.php
on line
71
Deprecated
: strpos(): Passing null to parameter #1 ($haystack) of type string is deprecated in
/var/www/wp-content/themes/LRDesignLLC/includes/builder/module/helpers/HoverOptions.php
on line
71
Deprecated
: strpos(): Passing null to parameter #1 ($haystack) of type string is deprecated in
/var/www/wp-content/themes/LRDesignLLC/includes/builder/module/helpers/HoverOptions.php
on line
71
Deprecated
: strpos(): Passing null to parameter #1 ($haystack) of type string is deprecated in
/var/www/wp-content/themes/LRDesignLLC/includes/builder/module/helpers/HoverOptions.php
on line
71
Deprecated
: strpos(): Passing null to parameter #1 ($haystack) of type string is deprecated in
/var/www/wp-content/themes/LRDesignLLC/includes/builder/module/helpers/HoverOptions.php
on line
71
Deprecated
: strpos(): Passing null to parameter #1 ($haystack) of type string is deprecated in
/var/www/wp-content/themes/LRDesignLLC/includes/builder/module/helpers/HoverOptions.php
on line
71
Deprecated
: strpos(): Passing null to parameter #1 ($haystack) of type string is deprecated in
/var/www/wp-content/themes/LRDesignLLC/includes/builder/module/helpers/HoverOptions.php
on line
71
Deprecated
: strpos(): Passing null to parameter #1 ($haystack) of type string is deprecated in
/var/www/wp-content/themes/LRDesignLLC/includes/builder/module/helpers/HoverOptions.php
on line
71
Deprecated
: strpos(): Passing null to parameter #1 ($haystack) of type string is deprecated in
/var/www/wp-content/themes/LRDesignLLC/includes/builder/module/helpers/HoverOptions.php
on line
71
Deprecated
: strpos(): Passing null to parameter #1 ($haystack) of type string is deprecated in
/var/www/wp-content/themes/LRDesignLLC/includes/builder/module/helpers/HoverOptions.php
on line
71
Deprecated
: strpos(): Passing null to parameter #1 ($haystack) of type string is deprecated in
/var/www/wp-content/themes/LRDesignLLC/includes/builder/module/helpers/HoverOptions.php
on line
71
Deprecated
: strpos(): Passing null to parameter #1 ($haystack) of type string is deprecated in
/var/www/wp-content/themes/LRDesignLLC/includes/builder/module/helpers/HoverOptions.php
on line
71
Deprecated
: strpos(): Passing null to parameter #1 ($haystack) of type string is deprecated in
/var/www/wp-content/themes/LRDesignLLC/includes/builder/module/helpers/HoverOptions.php
on line
71
Deprecated
: strpos(): Passing null to parameter #1 ($haystack) of type string is deprecated in
/var/www/wp-content/themes/LRDesignLLC/includes/builder/module/helpers/HoverOptions.php
on line
71
Deprecated
: strpos(): Passing null to parameter #1 ($haystack) of type string is deprecated in
/var/www/wp-content/themes/LRDesignLLC/includes/builder/module/helpers/HoverOptions.php
on line
71
Deprecated
: strpos(): Passing null to parameter #1 ($haystack) of type string is deprecated in
/var/www/wp-content/themes/LRDesignLLC/includes/builder/module/helpers/HoverOptions.php
on line
71
Deprecated
: strpos(): Passing null to parameter #1 ($haystack) of type string is deprecated in
/var/www/wp-content/themes/LRDesignLLC/includes/builder/module/helpers/HoverOptions.php
on line
71
Deprecated
: strpos(): Passing null to parameter #1 ($haystack) of type string is deprecated in
/var/www/wp-content/themes/LRDesignLLC/includes/builder/module/helpers/HoverOptions.php
on line
71
Deprecated
: strpos(): Passing null to parameter #1 ($haystack) of type string is deprecated in
/var/www/wp-content/themes/LRDesignLLC/includes/builder/module/helpers/HoverOptions.php
on line
71
Deprecated
: strpos(): Passing null to parameter #1 ($haystack) of type string is deprecated in
/var/www/wp-content/themes/LRDesignLLC/includes/builder/module/helpers/HoverOptions.php
on line
71
Deprecated
: strpos(): Passing null to parameter #1 ($haystack) of type string is deprecated in
/var/www/wp-content/themes/LRDesignLLC/includes/builder/module/helpers/HoverOptions.php
on line
71
Deprecated
: strpos(): Passing null to parameter #1 ($haystack) of type string is deprecated in
/var/www/wp-content/themes/LRDesignLLC/includes/builder/module/helpers/HoverOptions.php
on line
71
Deprecated
: strpos(): Passing null to parameter #1 ($haystack) of type string is deprecated in
/var/www/wp-content/themes/LRDesignLLC/includes/builder/module/helpers/HoverOptions.php
on line
71
Deprecated
: strpos(): Passing null to parameter #1 ($haystack) of type string is deprecated in
/var/www/wp-content/themes/LRDesignLLC/includes/builder/module/helpers/HoverOptions.php
on line
71
Deprecated
: strpos(): Passing null to parameter #1 ($haystack) of type string is deprecated in
/var/www/wp-content/themes/LRDesignLLC/includes/builder/module/helpers/HoverOptions.php
on line
71
Deprecated
: strpos(): Passing null to parameter #1 ($haystack) of type string is deprecated in
/var/www/wp-content/themes/LRDesignLLC/includes/builder/module/helpers/HoverOptions.php
on line
71
Deprecated
: strpos(): Passing null to parameter #1 ($haystack) of type string is deprecated in
/var/www/wp-content/themes/LRDesignLLC/includes/builder/module/helpers/HoverOptions.php
on line
71
Deprecated
: strpos(): Passing null to parameter #1 ($haystack) of type string is deprecated in
/var/www/wp-content/themes/LRDesignLLC/includes/builder/module/helpers/HoverOptions.php
on line
71
Deprecated
: strpos(): Passing null to parameter #1 ($haystack) of type string is deprecated in
/var/www/wp-content/themes/LRDesignLLC/includes/builder/module/helpers/HoverOptions.php
on line
71
Deprecated
: strpos(): Passing null to parameter #1 ($haystack) of type string is deprecated in
/var/www/wp-content/themes/LRDesignLLC/includes/builder/module/helpers/HoverOptions.php
on line
71
Deprecated
: strpos(): Passing null to parameter #1 ($haystack) of type string is deprecated in
/var/www/wp-content/themes/LRDesignLLC/includes/builder/module/helpers/HoverOptions.php
on line
71
Deprecated
: strpos(): Passing null to parameter #1 ($haystack) of type string is deprecated in
/var/www/wp-content/themes/LRDesignLLC/includes/builder/module/helpers/HoverOptions.php
on line
71
Deprecated
: strpos(): Passing null to parameter #1 ($haystack) of type string is deprecated in
/var/www/wp-content/themes/LRDesignLLC/includes/builder/module/helpers/HoverOptions.php
on line
71
Deprecated
: strpos(): Passing null to parameter #1 ($haystack) of type string is deprecated in
/var/www/wp-content/themes/LRDesignLLC/includes/builder/module/helpers/HoverOptions.php
on line
71
Deprecated
: strpos(): Passing null to parameter #1 ($haystack) of type string is deprecated in
/var/www/wp-content/themes/LRDesignLLC/includes/builder/module/helpers/HoverOptions.php
on line
71
Deprecated
: strpos(): Passing null to parameter #1 ($haystack) of type string is deprecated in
/var/www/wp-content/themes/LRDesignLLC/includes/builder/module/helpers/HoverOptions.php
on line
71
Deprecated
: strpos(): Passing null to parameter #1 ($haystack) of type string is deprecated in
/var/www/wp-content/themes/LRDesignLLC/includes/builder/module/helpers/HoverOptions.php
on line
71
Deprecated
: strpos(): Passing null to parameter #1 ($haystack) of type string is deprecated in
/var/www/wp-content/themes/LRDesignLLC/includes/builder/module/helpers/HoverOptions.php
on line
71
Deprecated
: strpos(): Passing null to parameter #1 ($haystack) of type string is deprecated in
/var/www/wp-content/themes/LRDesignLLC/includes/builder/module/helpers/HoverOptions.php
on line
71
Deprecated
: strpos(): Passing null to parameter #1 ($haystack) of type string is deprecated in
/var/www/wp-content/themes/LRDesignLLC/includes/builder/module/helpers/HoverOptions.php
on line
71
Deprecated
: strpos(): Passing null to parameter #1 ($haystack) of type string is deprecated in
/var/www/wp-content/themes/LRDesignLLC/includes/builder/module/helpers/HoverOptions.php
on line
71
Deprecated
: strpos(): Passing null to parameter #1 ($haystack) of type string is deprecated in
/var/www/wp-content/themes/LRDesignLLC/includes/builder/module/helpers/HoverOptions.php
on line
71
Deprecated
: strpos(): Passing null to parameter #1 ($haystack) of type string is deprecated in
/var/www/wp-content/themes/LRDesignLLC/includes/builder/module/helpers/HoverOptions.php
on line
71
Deprecated
: strpos(): Passing null to parameter #1 ($haystack) of type string is deprecated in
/var/www/wp-content/themes/LRDesignLLC/includes/builder/module/helpers/HoverOptions.php
on line
71
Deprecated
: strpos(): Passing null to parameter #1 ($haystack) of type string is deprecated in
/var/www/wp-content/themes/LRDesignLLC/includes/builder/module/helpers/HoverOptions.php
on line
71
Deprecated
: strpos(): Passing null to parameter #1 ($haystack) of type string is deprecated in
/var/www/wp-content/themes/LRDesignLLC/includes/builder/module/helpers/HoverOptions.php
on line
71
Deprecated
: strpos(): Passing null to parameter #1 ($haystack) of type string is deprecated in
/var/www/wp-content/themes/LRDesignLLC/includes/builder/module/helpers/HoverOptions.php
on line
71
Deprecated
: strpos(): Passing null to parameter #1 ($haystack) of type string is deprecated in
/var/www/wp-content/themes/LRDesignLLC/includes/builder/module/helpers/HoverOptions.php
on line
71
Deprecated
: strpos(): Passing null to parameter #1 ($haystack) of type string is deprecated in
/var/www/wp-content/themes/LRDesignLLC/includes/builder/module/helpers/HoverOptions.php
on line
71
Deprecated
: strpos(): Passing null to parameter #1 ($haystack) of type string is deprecated in
/var/www/wp-content/themes/LRDesignLLC/includes/builder/module/helpers/HoverOptions.php
on line
71
Deprecated
: strpos(): Passing null to parameter #1 ($haystack) of type string is deprecated in
/var/www/wp-content/themes/LRDesignLLC/includes/builder/module/helpers/HoverOptions.php
on line
71
Deprecated
: strpos(): Passing null to parameter #1 ($haystack) of type string is deprecated in
/var/www/wp-content/themes/LRDesignLLC/includes/builder/module/helpers/HoverOptions.php
on line
71
Deprecated
: strpos(): Passing null to parameter #1 ($haystack) of type string is deprecated in
/var/www/wp-content/themes/LRDesignLLC/includes/builder/module/helpers/HoverOptions.php
on line
71
Deprecated
: strpos(): Passing null to parameter #1 ($haystack) of type string is deprecated in
/var/www/wp-content/themes/LRDesignLLC/includes/builder/module/helpers/HoverOptions.php
on line
71
Deprecated
: strpos(): Passing null to parameter #1 ($haystack) of type string is deprecated in
/var/www/wp-content/themes/LRDesignLLC/includes/builder/module/helpers/HoverOptions.php
on line
71
Deprecated
: strpos(): Passing null to parameter #1 ($haystack) of type string is deprecated in
/var/www/wp-content/themes/LRDesignLLC/includes/builder/module/helpers/HoverOptions.php
on line
71
Deprecated
: strpos(): Passing null to parameter #1 ($haystack) of type string is deprecated in
/var/www/wp-content/themes/LRDesignLLC/includes/builder/module/helpers/HoverOptions.php
on line
71
Deprecated
: strpos(): Passing null to parameter #1 ($haystack) of type string is deprecated in
/var/www/wp-content/themes/LRDesignLLC/includes/builder/module/helpers/HoverOptions.php
on line
71
Deprecated
: strpos(): Passing null to parameter #1 ($haystack) of type string is deprecated in
/var/www/wp-content/themes/LRDesignLLC/includes/builder/module/helpers/HoverOptions.php
on line
71
Deprecated
: strpos(): Passing null to parameter #1 ($haystack) of type string is deprecated in
/var/www/wp-content/themes/LRDesignLLC/includes/builder/module/helpers/HoverOptions.php
on line
71
Deprecated
: strpos(): Passing null to parameter #1 ($haystack) of type string is deprecated in
/var/www/wp-content/themes/LRDesignLLC/includes/builder/module/helpers/HoverOptions.php
on line
71
Deprecated
: strpos(): Passing null to parameter #1 ($haystack) of type string is deprecated in
/var/www/wp-content/themes/LRDesignLLC/includes/builder/module/helpers/HoverOptions.php
on line
71
Deprecated
: strpos(): Passing null to parameter #1 ($haystack) of type string is deprecated in
/var/www/wp-content/themes/LRDesignLLC/includes/builder/module/helpers/HoverOptions.php
on line
71
Deprecated
: strpos(): Passing null to parameter #1 ($haystack) of type string is deprecated in
/var/www/wp-content/themes/LRDesignLLC/includes/builder/module/helpers/HoverOptions.php
on line
71
Deprecated
: strpos(): Passing null to parameter #1 ($haystack) of type string is deprecated in
/var/www/wp-content/themes/LRDesignLLC/includes/builder/module/helpers/HoverOptions.php
on line
71
Deprecated
: strpos(): Passing null to parameter #1 ($haystack) of type string is deprecated in
/var/www/wp-content/themes/LRDesignLLC/includes/builder/module/helpers/HoverOptions.php
on line
71
Deprecated
: strpos(): Passing null to parameter #1 ($haystack) of type string is deprecated in
/var/www/wp-content/themes/LRDesignLLC/includes/builder/module/helpers/HoverOptions.php
on line
71
Deprecated
: strpos(): Passing null to parameter #1 ($haystack) of type string is deprecated in
/var/www/wp-content/themes/LRDesignLLC/includes/builder/module/helpers/HoverOptions.php
on line
71
Deprecated
: strpos(): Passing null to parameter #1 ($haystack) of type string is deprecated in
/var/www/wp-content/themes/LRDesignLLC/includes/builder/module/helpers/HoverOptions.php
on line
71
Deprecated
: strpos(): Passing null to parameter #1 ($haystack) of type string is deprecated in
/var/www/wp-content/themes/LRDesignLLC/includes/builder/module/helpers/HoverOptions.php
on line
71
Deprecated
: strpos(): Passing null to parameter #1 ($haystack) of type string is deprecated in
/var/www/wp-content/themes/LRDesignLLC/includes/builder/module/helpers/HoverOptions.php
on line
71
Deprecated
: strpos(): Passing null to parameter #1 ($haystack) of type string is deprecated in
/var/www/wp-content/themes/LRDesignLLC/includes/builder/module/helpers/HoverOptions.php
on line
71
Deprecated
: strpos(): Passing null to parameter #1 ($haystack) of type string is deprecated in
/var/www/wp-content/themes/LRDesignLLC/includes/builder/module/helpers/HoverOptions.php
on line
71
Deprecated
: strpos(): Passing null to parameter #1 ($haystack) of type string is deprecated in
/var/www/wp-content/themes/LRDesignLLC/includes/builder/module/helpers/HoverOptions.php
on line
71
Deprecated
: strpos(): Passing null to parameter #1 ($haystack) of type string is deprecated in
/var/www/wp-content/themes/LRDesignLLC/includes/builder/module/helpers/HoverOptions.php
on line
71
Deprecated
: strpos(): Passing null to parameter #1 ($haystack) of type string is deprecated in
/var/www/wp-content/themes/LRDesignLLC/includes/builder/module/helpers/HoverOptions.php
on line
71
Deprecated
: strpos(): Passing null to parameter #1 ($haystack) of type string is deprecated in
/var/www/wp-content/themes/LRDesignLLC/includes/builder/module/helpers/HoverOptions.php
on line
71
Deprecated
: strpos(): Passing null to parameter #1 ($haystack) of type string is deprecated in
/var/www/wp-content/themes/LRDesignLLC/includes/builder/module/helpers/HoverOptions.php
on line
71
Deprecated
: strpos(): Passing null to parameter #1 ($haystack) of type string is deprecated in
/var/www/wp-content/themes/LRDesignLLC/includes/builder/module/helpers/HoverOptions.php
on line
71
Deprecated
: strpos(): Passing null to parameter #1 ($haystack) of type string is deprecated in
/var/www/wp-content/themes/LRDesignLLC/includes/builder/module/helpers/HoverOptions.php
on line
71
Deprecated
: strpos(): Passing null to parameter #1 ($haystack) of type string is deprecated in
/var/www/wp-content/themes/LRDesignLLC/includes/builder/module/helpers/HoverOptions.php
on line
71
Deprecated
: strpos(): Passing null to parameter #1 ($haystack) of type string is deprecated in
/var/www/wp-content/themes/LRDesignLLC/includes/builder/module/helpers/HoverOptions.php
on line
71
Deprecated
: strpos(): Passing null to parameter #1 ($haystack) of type string is deprecated in
/var/www/wp-content/themes/LRDesignLLC/includes/builder/module/helpers/HoverOptions.php
on line
71
Deprecated
: rtrim(): Passing null to parameter #1 ($string) of type string is deprecated in
/var/www/wp-content/themes/LRDesignLLC/includes/builder/class-et-builder-element.php
on line
16522
Deprecated
: strpos(): Passing null to parameter #1 ($haystack) of type string is deprecated in
/var/www/wp-content/themes/LRDesignLLC/includes/builder/module/helpers/HoverOptions.php
on line
71
Deprecated
: strpos(): Passing null to parameter #1 ($haystack) of type string is deprecated in
/var/www/wp-content/themes/LRDesignLLC/includes/builder/module/helpers/HoverOptions.php
on line
71
Deprecated
: strpos(): Passing null to parameter #1 ($haystack) of type string is deprecated in
/var/www/wp-content/themes/LRDesignLLC/includes/builder/module/helpers/HoverOptions.php
on line
71
Deprecated
: strpos(): Passing null to parameter #1 ($haystack) of type string is deprecated in
/var/www/wp-content/themes/LRDesignLLC/includes/builder/module/helpers/HoverOptions.php
on line
71
Deprecated
: strpos(): Passing null to parameter #1 ($haystack) of type string is deprecated in
/var/www/wp-content/themes/LRDesignLLC/includes/builder/module/helpers/HoverOptions.php
on line
71
Deprecated
: strpos(): Passing null to parameter #1 ($haystack) of type string is deprecated in
/var/www/wp-content/themes/LRDesignLLC/includes/builder/module/helpers/HoverOptions.php
on line
71
Deprecated
: strpos(): Passing null to parameter #1 ($haystack) of type string is deprecated in
/var/www/wp-content/themes/LRDesignLLC/includes/builder/module/helpers/HoverOptions.php
on line
71
Deprecated
: strpos(): Passing null to parameter #1 ($haystack) of type string is deprecated in
/var/www/wp-content/themes/LRDesignLLC/includes/builder/module/helpers/HoverOptions.php
on line
71
Deprecated
: strpos(): Passing null to parameter #1 ($haystack) of type string is deprecated in
/var/www/wp-content/themes/LRDesignLLC/includes/builder/module/helpers/HoverOptions.php
on line
71
Deprecated
: strpos(): Passing null to parameter #1 ($haystack) of type string is deprecated in
/var/www/wp-content/themes/LRDesignLLC/includes/builder/module/helpers/HoverOptions.php
on line
71
Deprecated
: strpos(): Passing null to parameter #1 ($haystack) of type string is deprecated in
/var/www/wp-content/themes/LRDesignLLC/includes/builder/module/helpers/HoverOptions.php
on line
71
Deprecated
: strpos(): Passing null to parameter #1 ($haystack) of type string is deprecated in
/var/www/wp-content/themes/LRDesignLLC/includes/builder/module/helpers/HoverOptions.php
on line
71
Deprecated
: strpos(): Passing null to parameter #1 ($haystack) of type string is deprecated in
/var/www/wp-content/themes/LRDesignLLC/includes/builder/module/helpers/HoverOptions.php
on line
71
Deprecated
: strpos(): Passing null to parameter #1 ($haystack) of type string is deprecated in
/var/www/wp-content/themes/LRDesignLLC/includes/builder/module/helpers/HoverOptions.php
on line
71
Deprecated
: strpos(): Passing null to parameter #1 ($haystack) of type string is deprecated in
/var/www/wp-content/themes/LRDesignLLC/includes/builder/module/helpers/HoverOptions.php
on line
71
Deprecated
: strpos(): Passing null to parameter #1 ($haystack) of type string is deprecated in
/var/www/wp-content/themes/LRDesignLLC/includes/builder/module/helpers/HoverOptions.php
on line
71
Deprecated
: strpos(): Passing null to parameter #1 ($haystack) of type string is deprecated in
/var/www/wp-content/themes/LRDesignLLC/includes/builder/module/helpers/HoverOptions.php
on line
71
Deprecated
: strpos(): Passing null to parameter #1 ($haystack) of type string is deprecated in
/var/www/wp-content/themes/LRDesignLLC/includes/builder/module/helpers/HoverOptions.php
on line
71
We are honored to have this beautiful event featured on Style Me Pretty. To see more, click here.
From the bride:
We love how much we deeply love each other. We both truly care for the other, and that just brings us such security. Both calm, get along well, and enjoy listening to Led Zeppelin, so that makes a pretty good match. We have so many stories…we were friends for a while before we started dating. We talk about the times when we were on the softball team together. Giggle now, because we talk how we felt when we would speak to each other then, and we both were so nervous because we had huge crushes on each other yet stayed friends — the time just wasn't right. We hung out, made excuses to go to the same places, and finally was like — "it's you I want" and never looked back.
John is from Louisiana, and I am from Florida, however grew up in Louisiana. Strangely, we grew up 15 minutes from each other. We chose Key West because on a whim (while at Coral Castle in Homestead) decided it would be wonderful to visit Key West since we both have never been. Well, it took a lot longer than thought and ended up only being there for about 2 hours that night. We fell in love with the place. It was like New Orleans met with Florida and had a child. To us, it represented both sides of our families, and we love that. For the venue, I personally picked Casa Marina because it seemed like Key West's history never left. Adore that.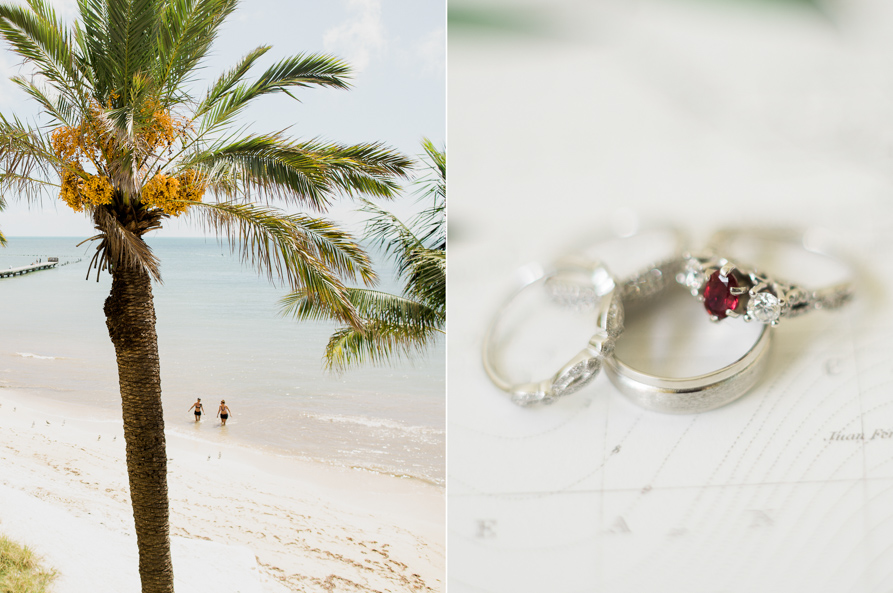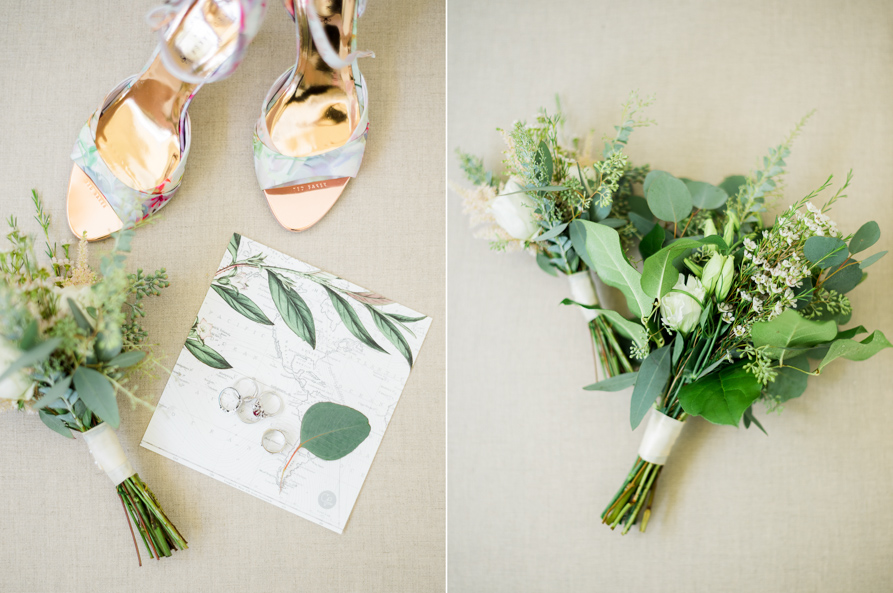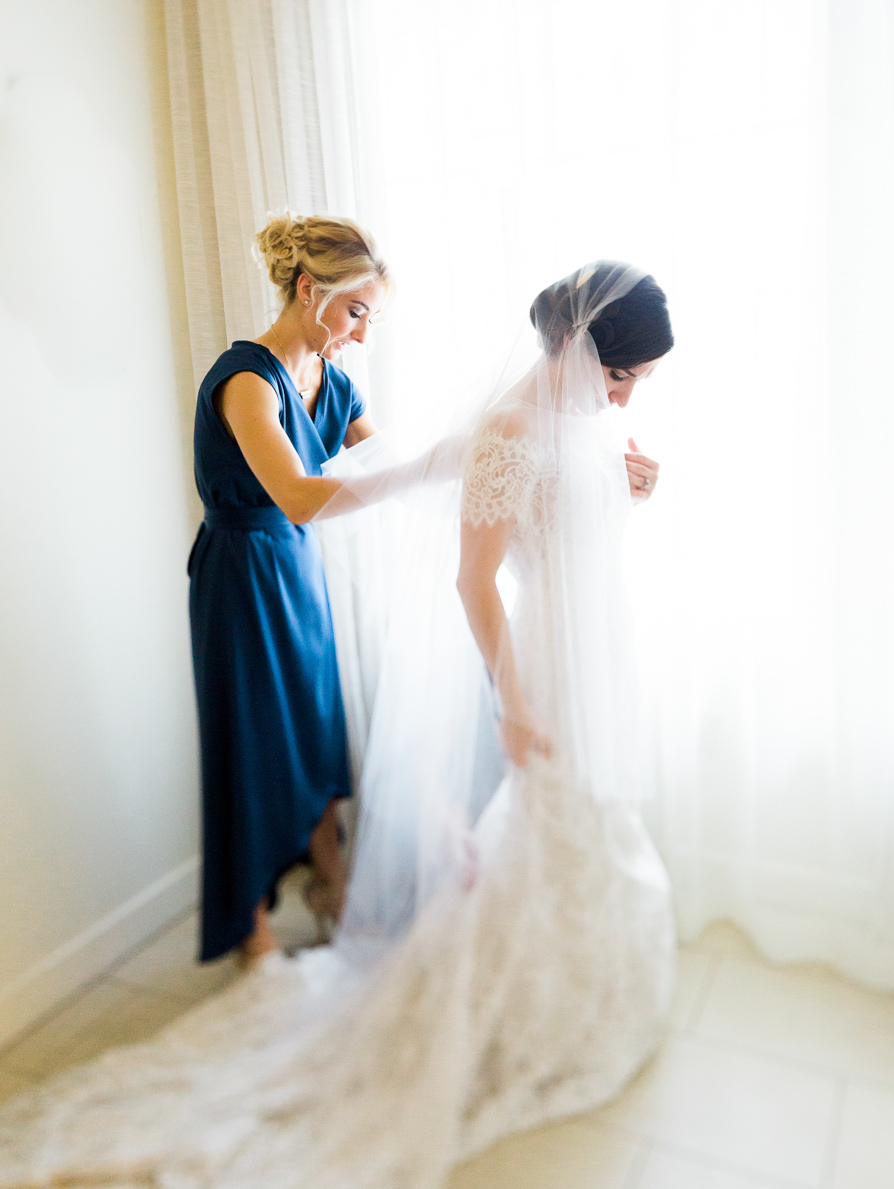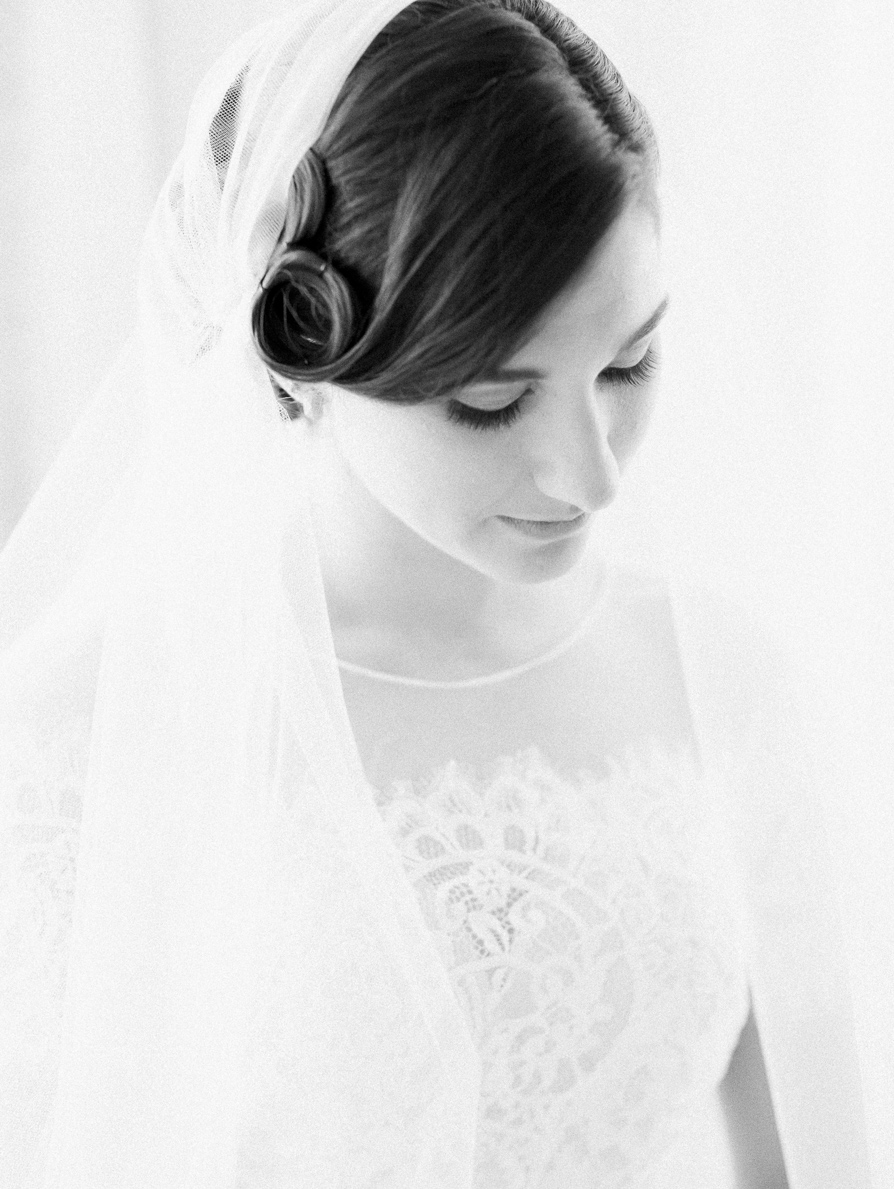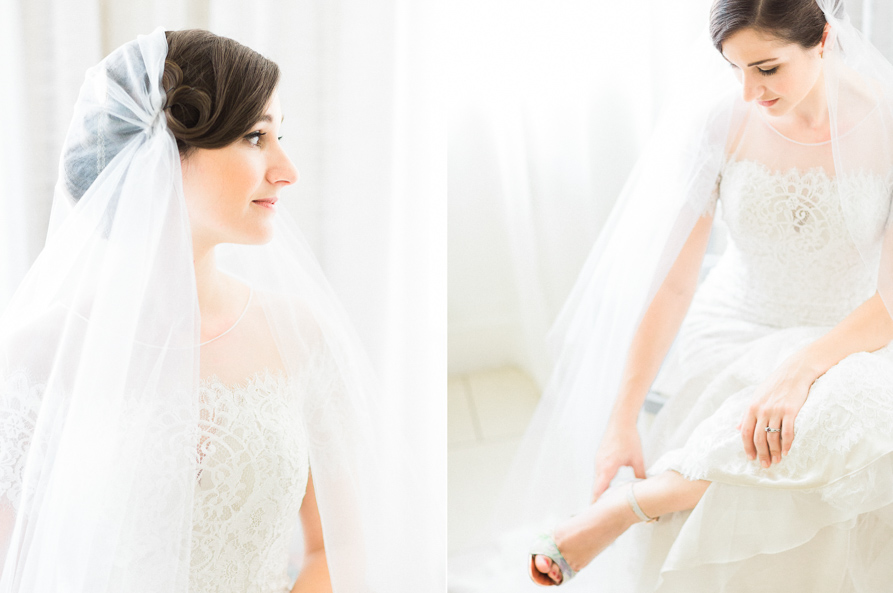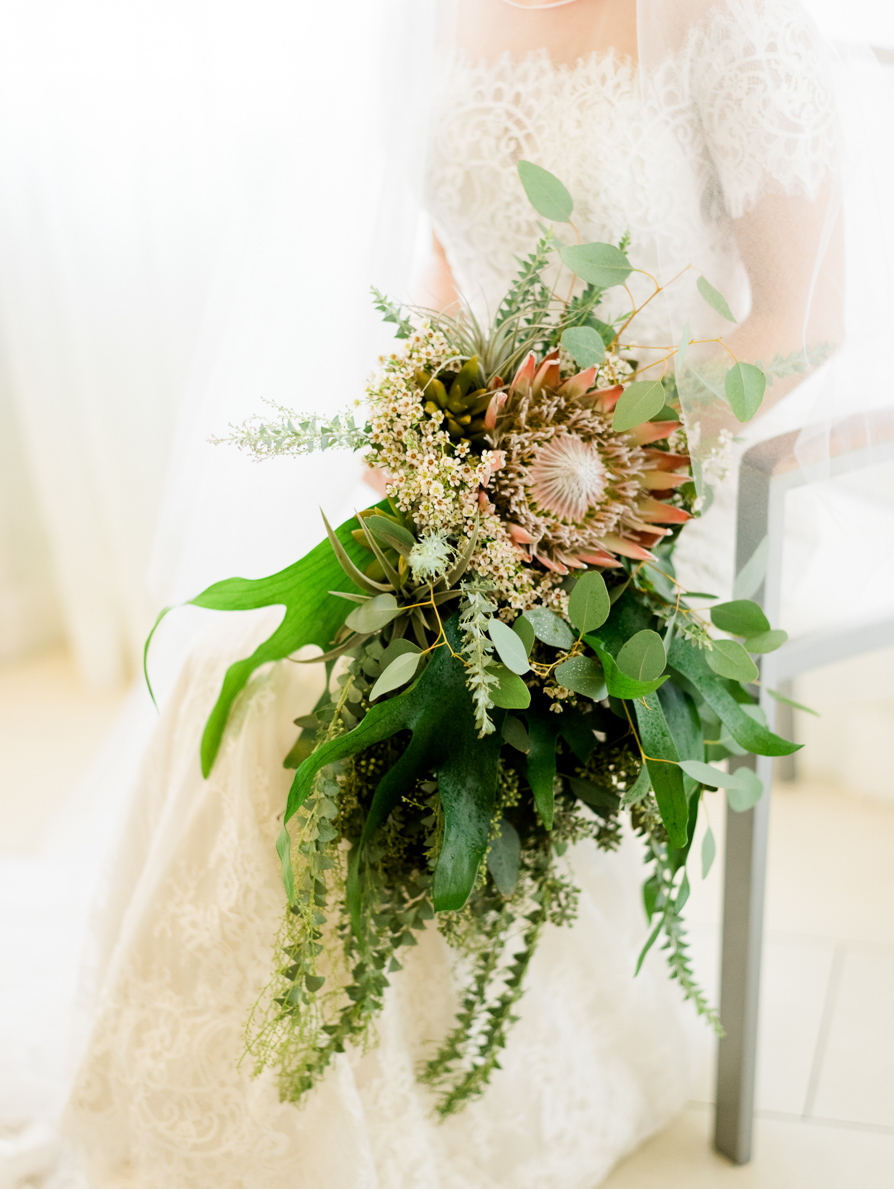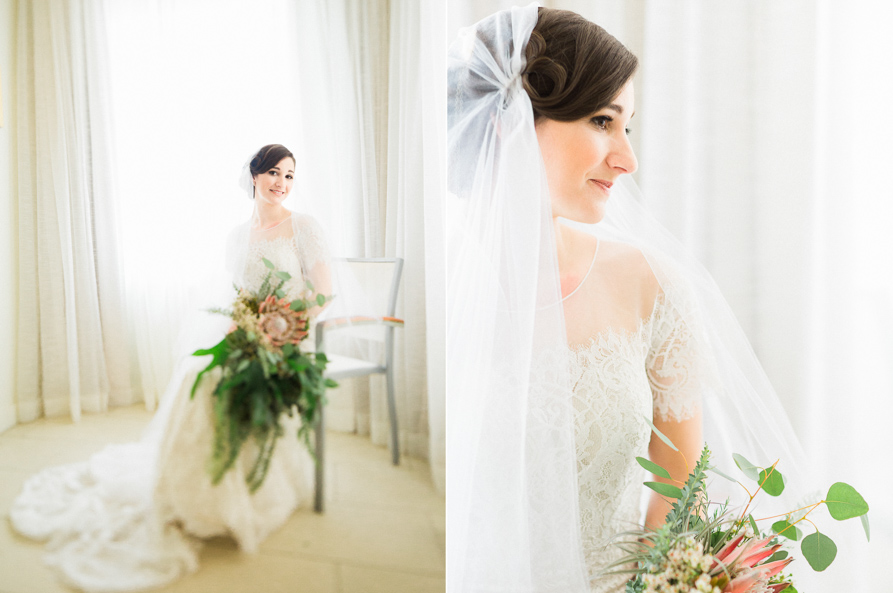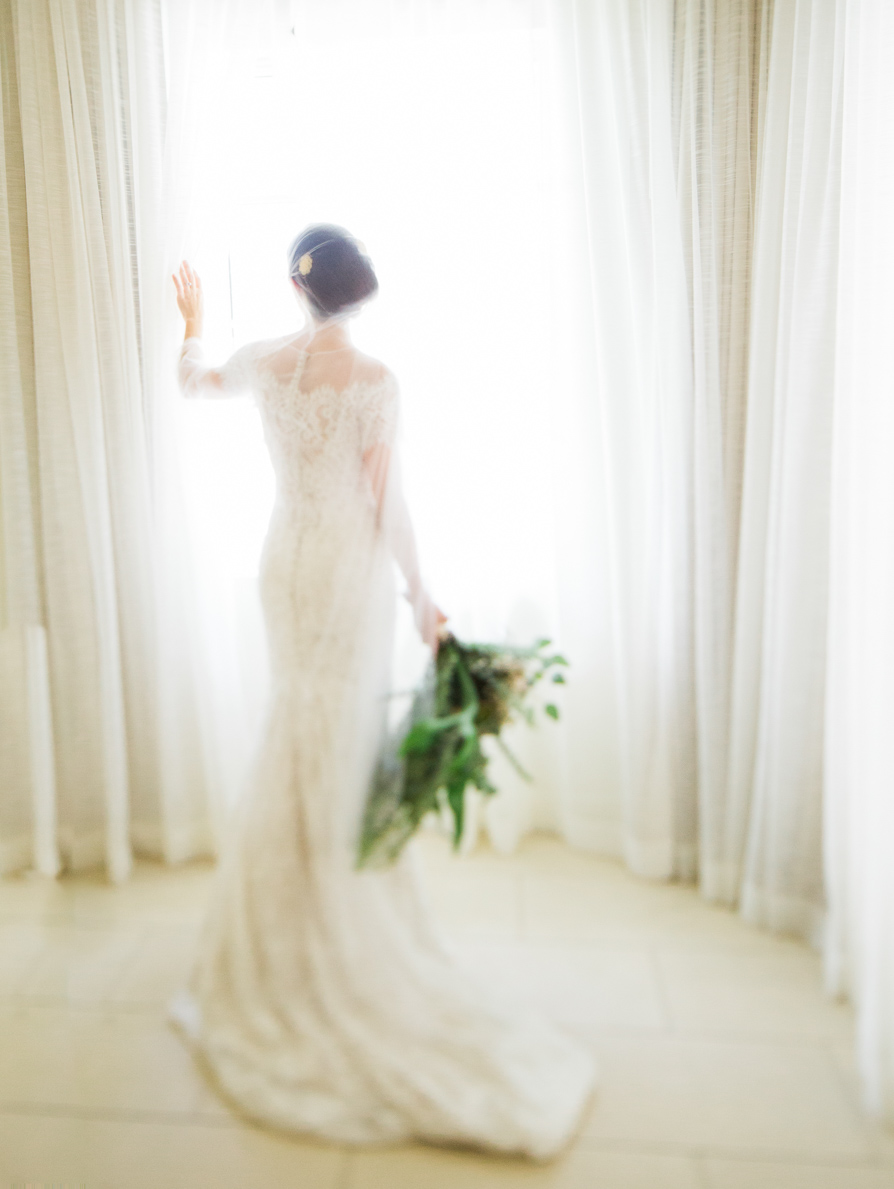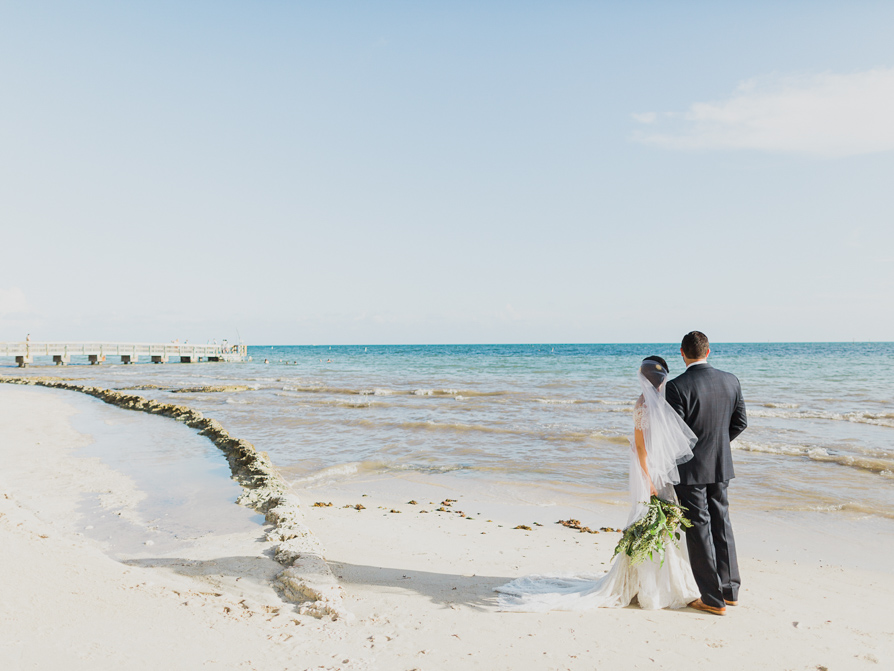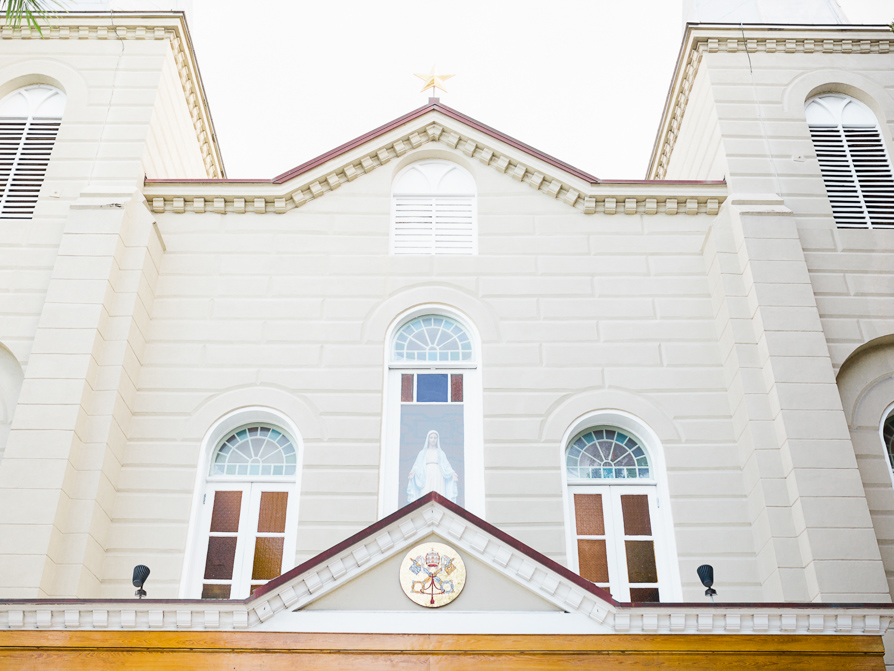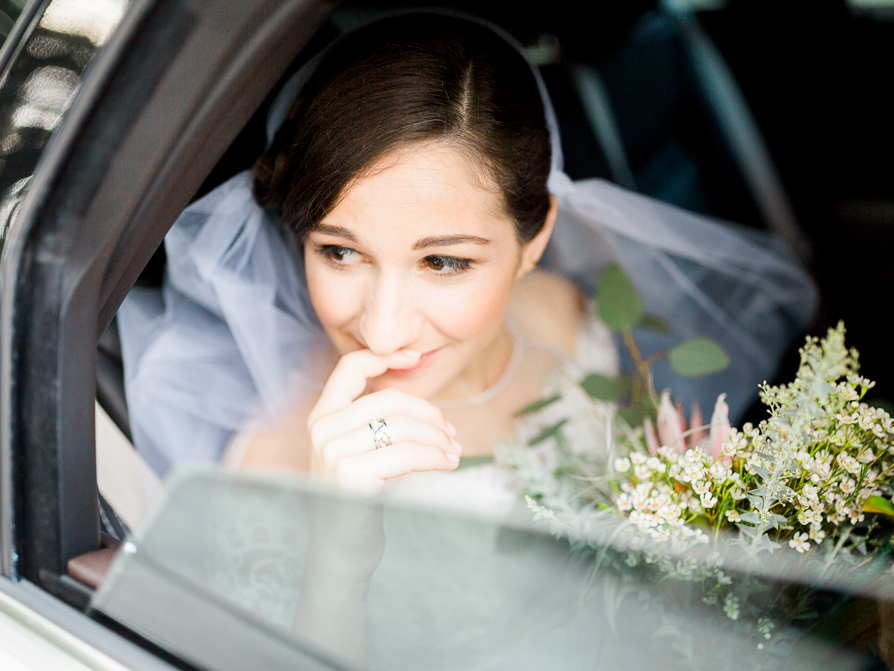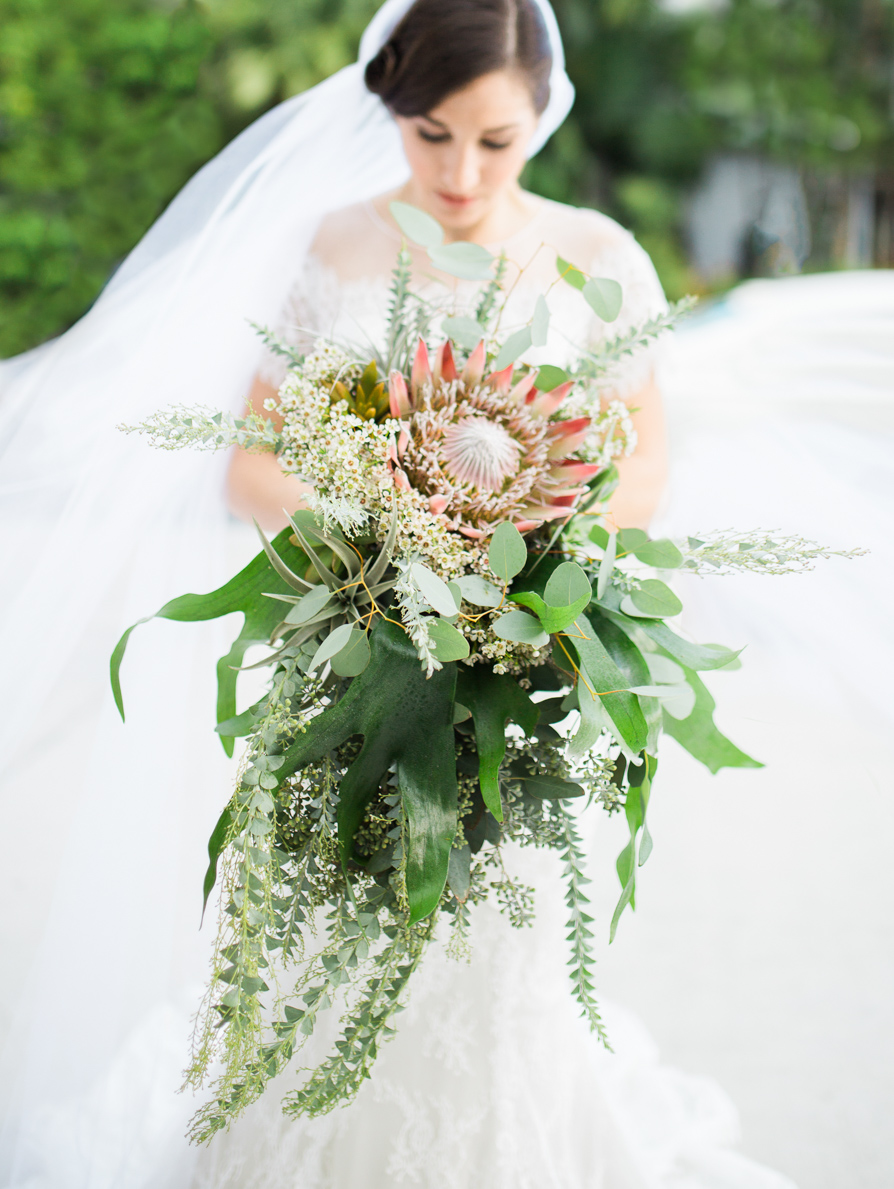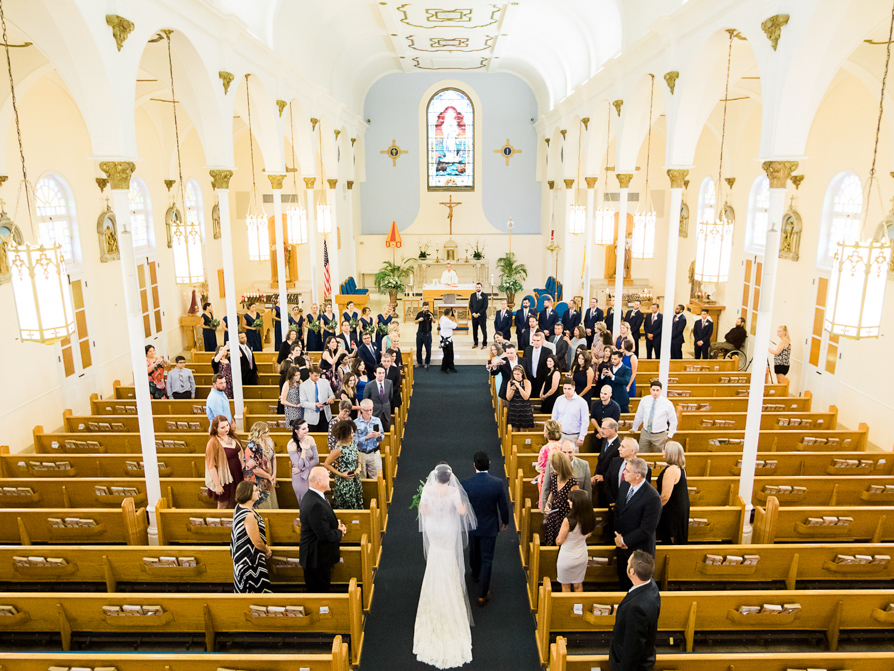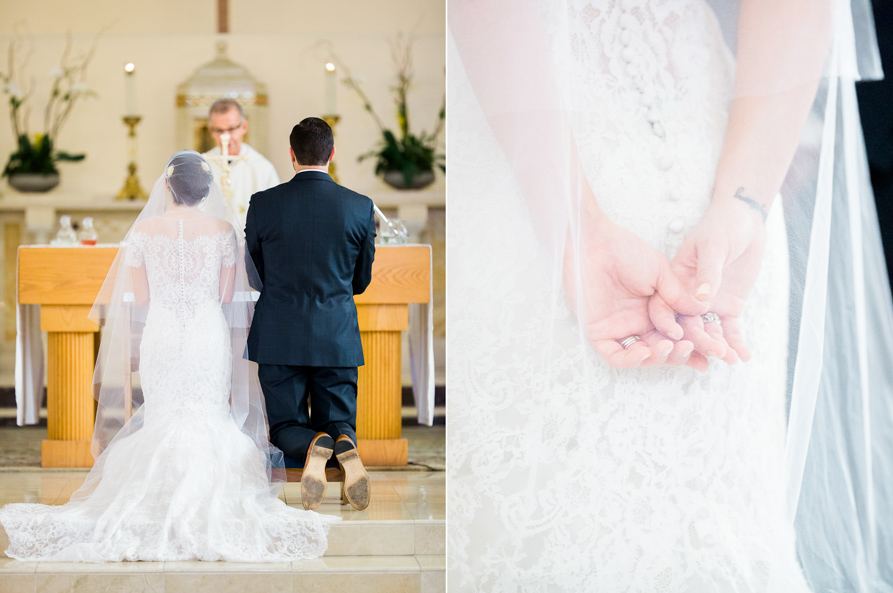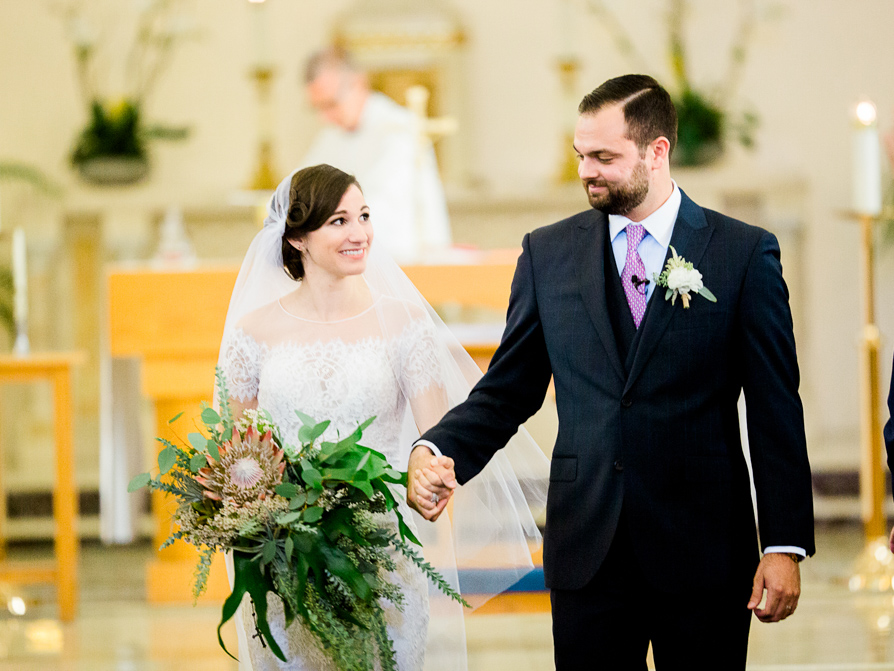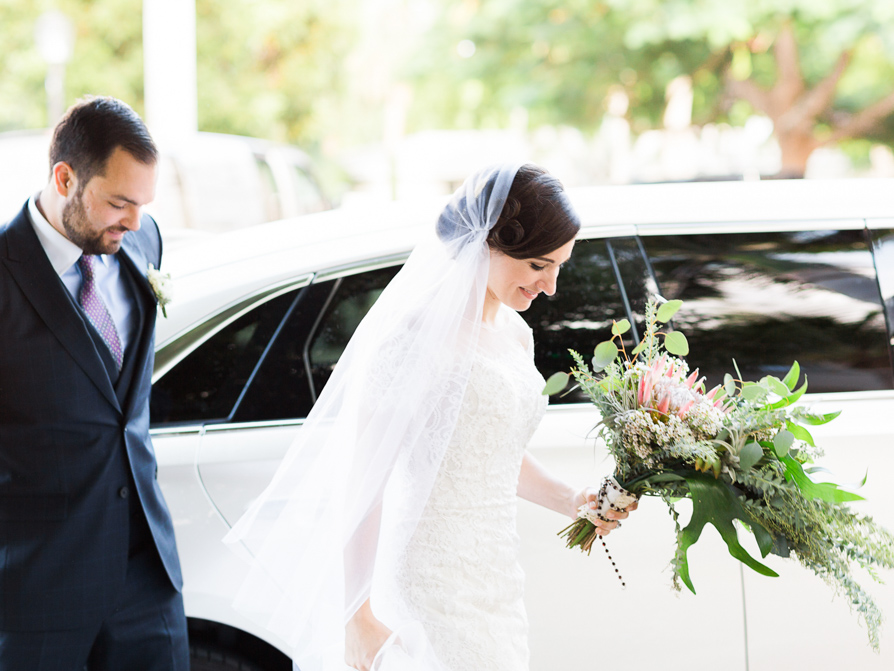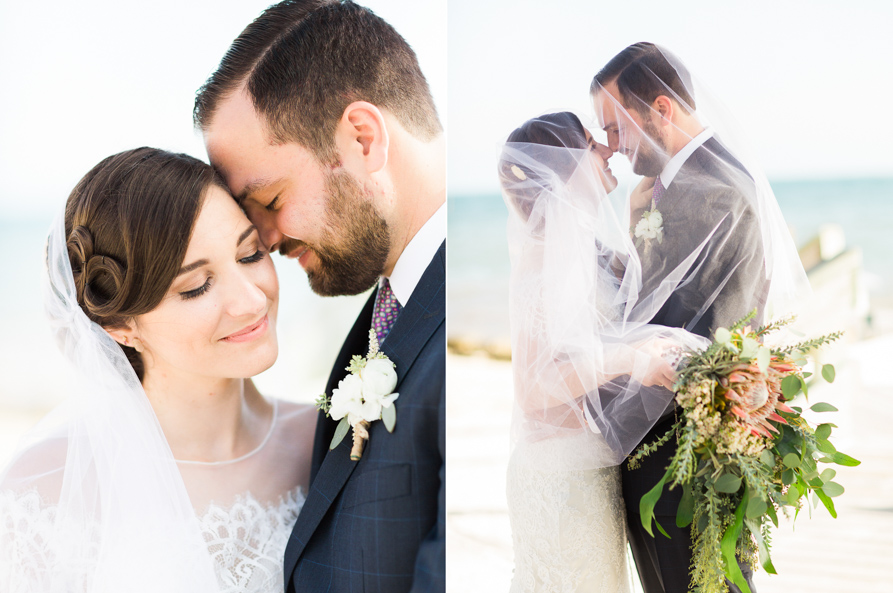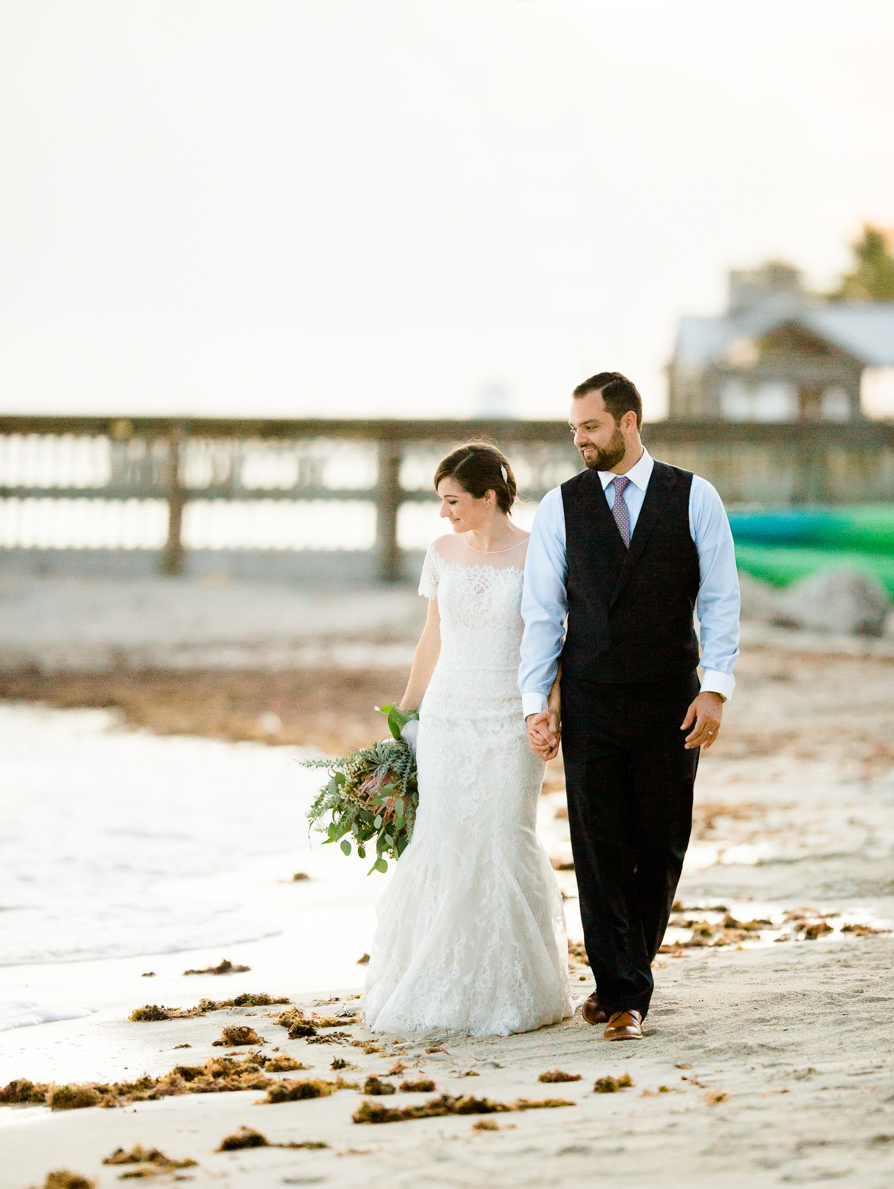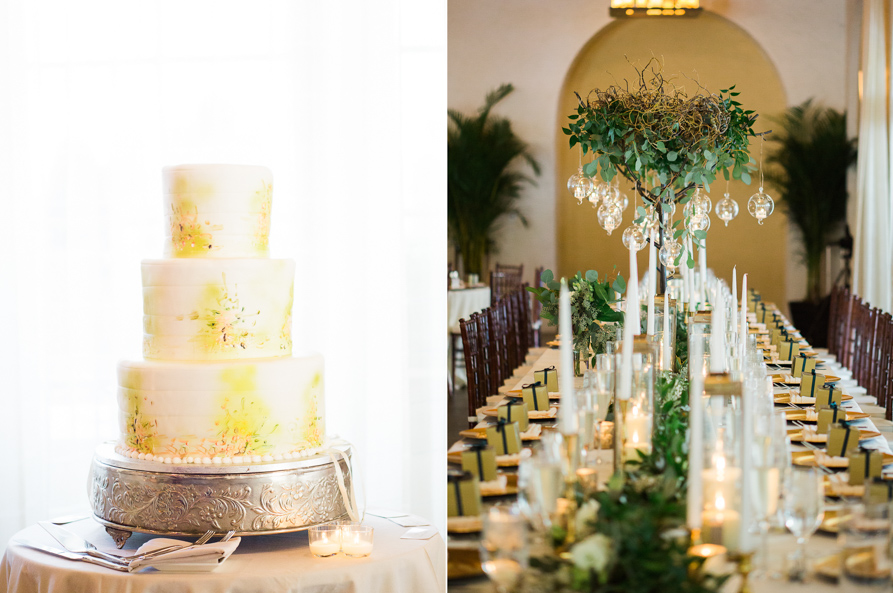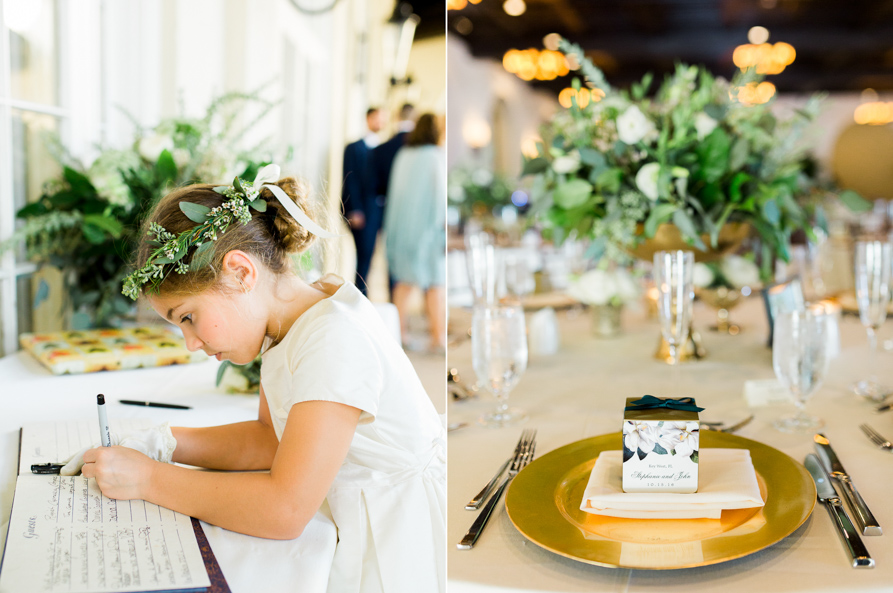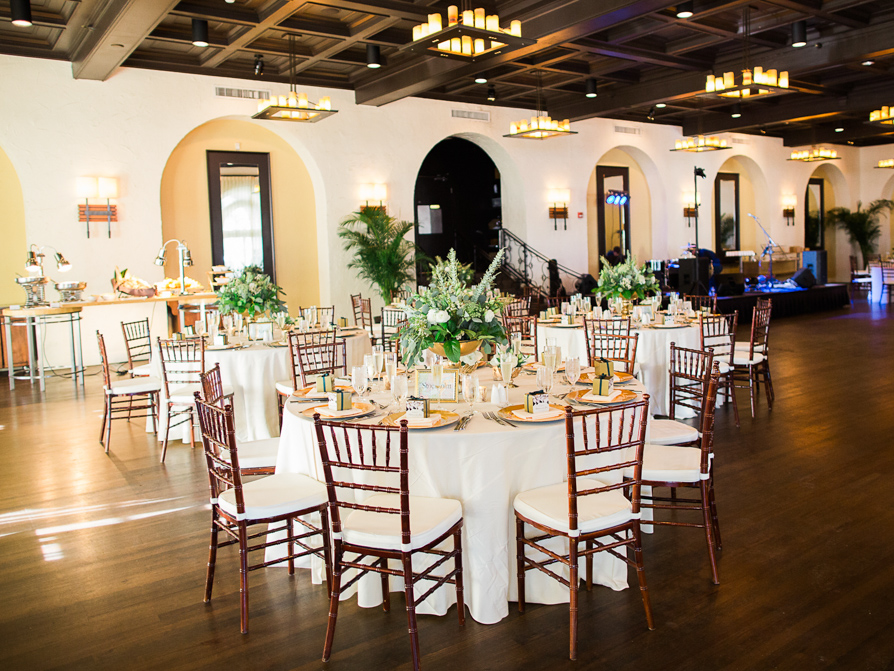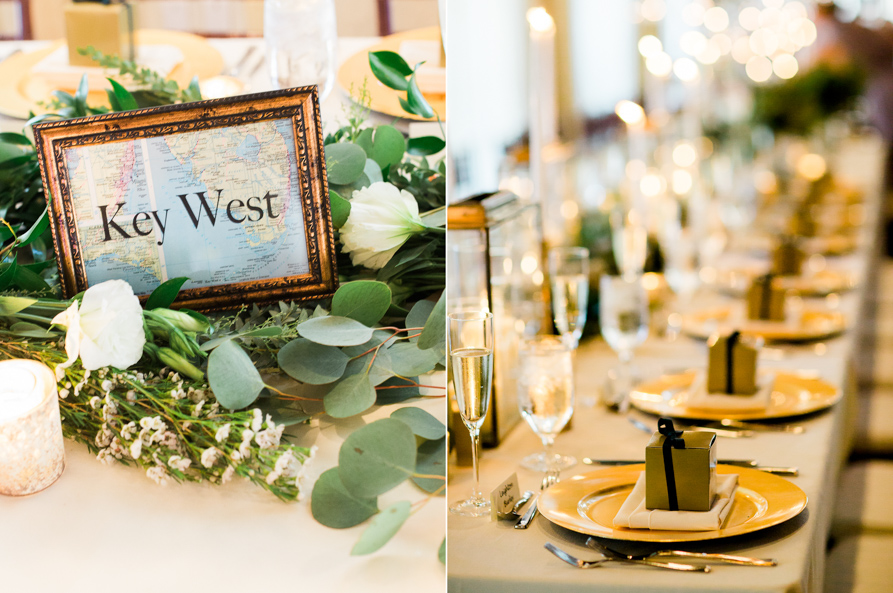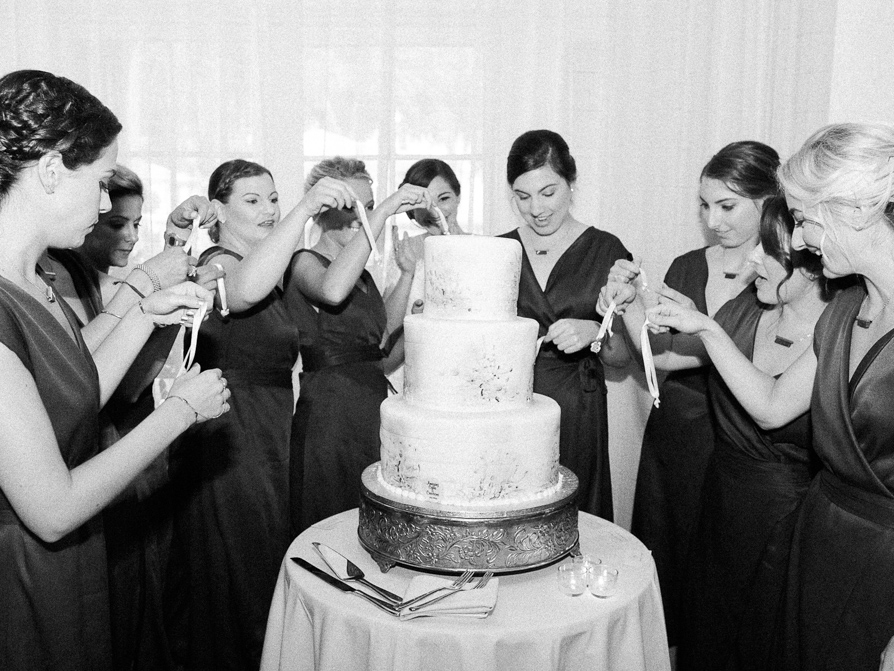 Vendors:
Veil: JoyandFelicity Cake: Amazing Cakes / Hair and Makeup: Isle Style / Brides maids dresses: Scaporella / Bridal Gown: Yvonne LeFluer / Venue: Casa Marina Waldorf Astoria Resort / Florals: Duarte Floral Design / Planner: Destination Wedding Studio